Performing DNA Typing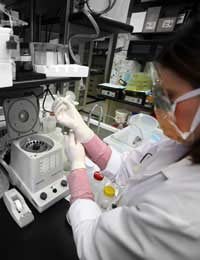 DNA typing is an important aspect of many fields and applications such as forensic science, medicine and paternity disputes. It goes by many names, including DNA fingerprinting, profiling or testing. The approach is not a singular one, which means that there are numerous techniques used to perform DNA typing. Research is continuously evolving and techniques are regularly refined or replaced by newer, more sophisticated ways to perform DNA typing. While you may be interested to read an overview on the different ways to perform DNA typing or even read in-depth on each technique, it can be helpful to simply get a basic sense of why we even perform DNA typing and how it is so important to a broad range of fields.
Differences Between People
At an extremely simplistic level, DNA typing takes advantage of the fact that we are all different. Your DNA is a unique fingerprint and is not shared with anyone else, with the exception of identical twins and clones. Still, if you look at it in another light, all humans share much of the same DNA. Yet, given how many bases are in DNA, there are still approximately three million bases that are different from one person to another. In fact, it is fascinating to consider that it is roughly one-tenth of just one percent of DNA that is different. These differences are exploited in the laboratory to create a DNA profile of a person. The sample may be taken from a person's hair, blood, body tissue or many other locations. If the DNA typing is meant for a criminal investigation, then the sample would likely be collected at a crime scene and then assessed for certain DNA markers.
Understanding DNA Markers
DNA markers are an important aspect of DNA typing. A scientist or technician will identify DNA markers from a sample by using something called DNA probes, which find a complementary DNA sequence within the sample and then bind to it. A set of probes that will bind to a sequence of DNA will produce a special, unique pattern for a person. By comparing DNA profiles, scientists can then create data that may be useful for applications such as a criminal case. A scientist might check to see if the DNA profile is a match between a suspect in a crime and evidence found at the scene of the crime.
Assessing a Match
It is important to keep in mind that one marker is not considered enough to match up evidence. Of the thirteen regions that differ within humans, one or two markers matching is not considered a strong match but five would be considered reasonably strong and more likely to indicate that the DNA typing is indicative of the same person. It is, however, still a balancing act to assess how strong the DNA typing is with regards to a match. Some scientists cite that DNA typing is more advanced and better than an eyewitness statement.
DNA typing may be a concept with several names and even more techniques, but it will continue to operate on a simple premise, which is that humans are different and these differences can be measured and compared to provide important information.
You might also like...
I like the topic of DNA typing.
santi
- 7-Apr-11 @ 9:19 PM