Recent DNA Research and Developments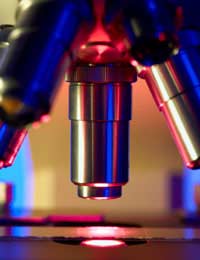 One of the exciting aspects of DNA is that it plays a significant role in many types of research around the world, from genetics and immunization to education and the development of medical treatments. In this sense, there are regular, new developments and it can be daunting to stay up-to-date on the rapidly changing worlds of forensic science, medicine and related fields where DNA takes on an important role.
Arsenic DNA and Early Life
While most people associate the chemical arsenic with killing life, recent research suggests that it may actually have contributed a key role to the origins of life on our earth. A respected professor at a university in the United States believes that arsenic might have been a vital ingredient for early life forms. One of the reasons for his beliefs relates to the way that arsenic - recognised by most of us for its effect as a toxin - behaves in a similar way to phosphorus. Phosphorus was a vital ingredient in virtually every living organism, which has spurred the idea that arsenic may have played a closely related role to life forms. In fact, there would have been more arsenic than phosphorus present in the oceans at that time. In the case of phosphorus, the work of microbes would have been required to 'release' phosphorus from rocks while conversely, arsenic would have been able to dissolve from hydrothermal vents.
As to how this relates to DNA, you have to look at the way that phosphorus is a part of the building aspect off the DNA backbone. By binding to four oxygen atoms to create a negatively charged phosphate ion, phosphorus contributes to the DNA double helix backbone. Not only that, but phosphorus is also important in adenosine triphosphate - or ATP - which is integral to providing energy to the majority of life forms on our earth. As such, it is thought that arsenic could have fulfilled similar roles to early life.
Universal DNA Database
While national DNA databases holding the DNA of arrested or convicted criminals are a reality for most of us and tend to bring forth a great deal of controversy, imagine the prospect of a universal DNA database. This is one avenue that is currently undergoing consideration in the United Kingdom (UK). What this means, however, is that every single person in the UK would be a suspect for any crime that is committed on national soil. Support for a universal database cites our ability to potentially solve a greater number of crimes. Those opposed to a universal database believe that the loss of privacy and personal freedoms far outweigh the benefits of a universal DNA database. Given that the UK database is already the largest in the world and is so extensive in comparison to DNA databases in other countries, some people feel that it's only a matter of time before the UK implements a universal database. Hopefully, there will be sufficient public debate and transparency on the issue before this type of database is implemented.
DNA Syringe
Research investigating a DNA syringe has provided some interesting benefits by facilitating wound healing and restoring damaged nerves. The syringe works by injecting DNA into the body to allow for insertion into cells. Then, an electric current is used to allow DNA to successfully move across cell membranes. Still, one challenge is that any electrical stimulation could also destroy cells, which means that careful examination and research needs to be performed before this type of syringe is concluded to be safe for widespread use.
Whether DNA developments involve genes or the ethics of DNA databases, the importance of DNA in all of our lives continues to become increasingly more dominant. You can stay on top of the most recent advancements by regularly reading and listening to the news. You can also read about specific resources that cover DNA and its many roles in the human body or its numerous other applications.
You might also like...
Very interesting, thanks for helping me with my research
Jessie
- 7-Mar-19 @ 6:44 AM
Can you describe how DNA could help in patients with COPD. Can or could it be used to grow or repair a patients lungs? If the DNA can be used to grow certain things maybe it could be used to repair lung damage or grow a new lung.Thanks
Tinker
- 10-Oct-17 @ 3:14 AM
Who are some people who are currently working with DNA?
red
- 23-Feb-17 @ 6:10 PM
Getting better. thanks for listeningto my comments. :)happydays.
TWB
- 3-Nov-11 @ 10:52 AM