Obtaining Your DNA Testing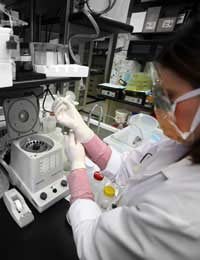 There are many reasons a person might want to obtain DNA testing. They could be concerned about the potential for passing on an inheritable disease to their offspring or they might want to confirm that an assumed family member is genetically related. Other reasons for DNA testing could be for immigration applications, where the government requires proof of identity and no other papers provided are sufficient to establish a claim.
Whatever the reason for obtaining DNA testing, you should ultimately consider the benefits and challenges carefully. In fact, you can even obtain genetic counselling if you need advice and support with both the decision to obtain testing and the interpretation aspect of the results, which can be quite emotional and difficult.
DNA Genetic Testing for Disease
DNA testing for disease – or genetic testing – is an important way to assess a person's susceptibility to a disease or to identify if they carry any mutations that are responsible for a particular disorder. It is one of the common forms of testing performed at the specific request of a couple wishing to have a child. Other forms of testing such as forensics testing, however, are initiated in a different way. While forensics testing is performed routinely around the world, most of this testing is directed through the state criminal justice program rather than through the direction of an individual to be tested.
DNA Testing for Immigration or Paternity
Today, we are fortunate in that we can confirm familial relationships, particularly the one between a parent and a child. Ancestry DNA testing has become a useful form of DNA testing. People may spend a great deal of time searching for family members, whether through an associated surname or other means. While learning this information often brings intense emotional challenges, it can help to bring closure to an ambiguous situation where the father is not known. In cases relating to immigration, DNA testing can help to confirm identity and reunite family members in their new home. Obtaining either of these types of testing can ultimately have a large impact on a person's life and their assumed family.
Is DNA Testing Right for Me?
Whether or not DNA testing is right for you is an intimately personal choice that can be aided by a discussion with your doctor. It's important to look at your reasons for wishing to have testing performed and to also assess the benefits of testing as well as how you wish to proceed should you obtain the testing. If you are trying to confirm a familial relationship, you need to consider how you will handle the results.
Choosing a Laboratory for Accurate and Reliable Testing
The results from your DNA testing will likely have a significant impact on your life, which means that it is important to have them performed by a fully accredited laboratory. Generally, disease or paternity testing is best directed by your primary care physician, who can provide recommendations regarding a suitable, nationally approved laboratory. If your DNA testing is for immigration purposes, there should be a list of government-approved laboratories where the testing can safely and reliably be performed.
Approach With Caution
An important aspect of disease testing that you should keep in mind is that there are many advertisements cropping up for disease testing. They promise to provide results that will tell you what disease you are at risk for, but studies have shown they can be highly inaccurate and they tend to provide recommendations that are inappropriate. It is wise to have any of this specific type of testing done under the supervision of your doctor to ensure accuracy and reliable information following the results, when you will be deciding if any action should be taken. Disease testing has many benefits and can be an important aspect of your healthcare.
For other forms of testing, they may be guided by national policies and procedures. For instance, paternity DNA testing related to immigration applications is usually done in a laboratory from a list of approved facilities. This list is provided by immigration services. Other types of paternity testing for personally-guided reasons, however, can generally be obtained from a facility that is recommended by your doctor.
Before embarking on DNA testing, take the time to consider the benefits and problems related to the testing. Look at how the results will affect you and ensure that you have testing performed at an accredited laboratory. You may also want to consider counselling as well, which can help you to handle your newfound knowledge from the DNA test.
You might also like...
i would be grateful to find how and where i can get some tests done of any DNA left in a pair of gloves my late father wore. The aim would be to find out my fathers ethnicity estimate similar to what MY Heritage offers from their DNA cheek swab system. regards, Marten
I'm in need of advice for a family member , my cousin had a relationship with his ex girlfriend for 2 years and planned a baby together , after falling pregnant she decided to leave him , during the pregnancy she started having a relationship with her ex husband , and now she's trying to pass the baby off as his and being rather spiteful , my cousin wants a DNA test done to prove he Is the dad so he can have access to his baby but she won't agree , we fear she hasgone as far as putting her ex husband down as the father on the birth certificate , can he get a court to make her do a test ? And how do you go about it ? Any advice or experience would be great!
Evie-Lou
- 11-Sep-15 @ 11:17 PM