Pollution Effects on DNA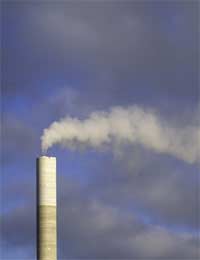 It seems as though we're all surrounded by pollution on a daily basis. But, have you ever wondered if this might have an impact on our DNA? We already know that pollution can worsen respiratory illnesses and that it has been linked to a whole host of other health conditions and diseases, but the question of whether it can damage our DNA is an important one. Unfortunately, new research suggests that it may very well harm our DNA.
Damaged DNA
Scientists had wondered the same thing, which has led them to study the effects in mice. They found that pollution such as soot from a factory or road pollution could ultimately cause genetic damage. In turn, this damage could be passed on to our children.
Allergy Links
Pollution is already linked up to many health problems such as allergies, heart disease and respiratory conditions. Researchers wanted to investigate further and ran studies on mice. They kept mice near steel mills and then subjected the offspring of the mice to a number of tests.
Increased Mutations from Male Mice
The researchers found that the male mice kept near the mills passed on double the number of DNA mutations compared to mice that lived in the countryside, where the air was cleaner. Researchers concluded that the greater number of DNA mutations was due to airborne particles – soot. Whether it's from a factory or a car, the potential is there that these mutations might also be seen in humans, not just mice.
It appears that the mutations are passed on through the father's sperm. While no links have yet been made from the mutated DNA to a disease, there is still concern that this could occur. The researchers stated that this was a sign for more research to find out if these DNA mutations might lead to health issues.
New Regulations for Cleaner Air
This kind of study suggests we need to be even more active when it comes to cleaning up our air. Environmental agencies already cite concerns about poor air quality and pollution in terms of the effects on the health of children or the elderly. In particular, people who have respiratory health conditions are highly susceptible to the effects of poor air quality and pollution. Better monitoring of air quality and positive changes may not just mean that those susceptible people mentioned obtain better health but it can also now mean that DNA mutations are prevented.
Understanding the Research
The researchers aren't exactly clear on how these airborne particles are able to damage the sperm. They hope to establish more information in further studies, which could not only lead to improved policies around better air quality, but also preventative strategies to stop DNA damage before it starts.
Continuing to Research
It's still too early to say whether DNA that is damaged from pollution will actually translate to adverse health effects. More research is needed to find out if we should be concerned. However, the potential is there, which means we will have to wait and see what comes of new studies and information in the field.
You might also like...