DNA: Education and Careers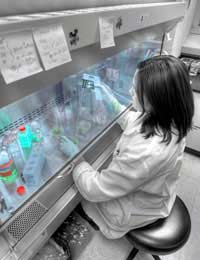 If you find that your curiosity about DNA goes beyond the mere basics and you are contemplating the beginnings of a career or perhaps even a job change, then you might want to read more about the education and work opportunities that are available for students interested in DNA science. Since the discovery of DNA, numerous fields have grown to encompass a variety of roles related to this molecule and subsequent research. Your interest may be in areas ranging from the laboratory aspects of DNA research and analysis to the legal ramifications of DNA profiling in the criminal justice system. If you enjoy learning about DNA and are curious to find out more, consider reading about job opportunities in the field and learn more about how companies are recruiting talent for this area.
Molecular Biology
There are many types of jobs in molecular biology that relate to DNA. If you are thinking about a career in this field, you will probably be someone who enjoys laboratory work and has an attention to detail. Some of the therapeutic areas you might like to consider for a career in DNA include biochemistry, microbiology and virology. Another area that is extremely important is cancer biology, where you will look at how DNA relates to cancer genetics and treatment.
Other molecular biology focuses relate to plant biology, which is an interesting area to think about if you enjoy learning about plants and nature. Yet another crucial area that needs involvement and is on the rise is pharmacology and drug development related to DNA disorders. Molecular biology is definitely one area to consider for a career in DNA because it can be very rewarding, particularly in relation to disease research and treatment. You can feel good about knowing you are making a difference in the quality of life for people around the world.
Genetic Counselling
With the advent of DNA testing for paternity and inheritable disease, genetic counselling is a major area you might want to think about for education and a career. As it suggests, you would provide counselling – information and guidance – for couples that want genetic testing to determine the likelihood of their child having a specific disorder. Genetic counselling is also an option for people who have applied for immigration to a country and require paternity testing. If you are someone who likes offering education and support to people, particularly with regards to difficult or traumatic information, this might be a role that is appropriate for you to consider as a career.
Forensic Science
Forensics is a fascinating focus for DNA jobs and it is an area that strongly relates to DNA. Forensic scientists take a university program that is heavily laboratory based. Students learn about DNA analysis and crime scene investigation. If you have an analytical mind and an investigative nature while also enjoying laboratory work, this is an area that might be a wonderful match for your aptitude and skills.
DNA and Law Careers
For individuals who are intrigued by the legal implications of DNA, there are lawyers who specialise in immigration cases where DNA evidence is used. There are also jobs with criminal investigation and the application of DNA evidence established by forensic scientists.
There are many other types of jobs that pertain to DNA and you will learn more by reading as much as possible on the subject. If you are currently a student, consider speaking to an academic advisor about the options for a career in DNA. Your advisor can provide detailed information on the type of courses you will need to take at university as well as any options for specialisation in your desired field of work. You might also want to think about contacting a professional working in the area of interest, who may allow you to 'shadow' them for the day. In this way, you can get a better sense of what a typical day is like in the field and it can help you to narrow down your own interests and preferences for a potential career in DNA.
You might also like...