The Effect of Famine on Foetal DNA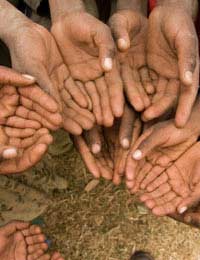 While most of us know that a famine can damage a person's body, did you consider that these damages can not only extend to the unborn child, but do so permanently? As much as six decades after a pregnant woman experienced starvation during the second world war, the genes of her child and her child's offspring – and so forth – still show chemical changes that could increase their risk of diseases such as diabetes and cancer.
Understanding Genes and Pregnancy
If you think about your genes, they can experience changes. These changes will influence how proteins are produced in your body. One example of an outside influence would be the environment. The environment can affect the number of 'chemical caps,' which are known as methyl groups – coupled with DNA bases. These caps affect the amount of protein that a gene would produce. On top of that, the caps will persevere for the duration of a person's life and can be passed through to that person's offspring.
Studying Famine and Offspring
Several researchers were interested to study the link between famine and how this affected a mother's offspring. They looked at previous studies that had already shown that there was a connection between nutrition and smoking in men and how healthy their sons were as a result – as well as their grandchildren. Other previously performed studies have found that when pregnant mice did not receive enough foods that are known to be important for DNA methylation, the genes of their offspring had fewer methyl caps.
To take it a step further and look for a link between pregnant mothers who were starved and the effects on their offspring, researchers studied sixty individuals who were conceived in famine times during the second world war. Given the shortage of food, pregnant women sometimes consumed only five hundred calories each day for the period of approximately one year. To look at the effects on the children of these women, the researchers investigated a gene called IGF2. This is an important gene that is involved in growth.
Analysing the Results
The results of the study showed some interesting information. Researchers found that the IGF2 genes of the famine babies had five percent less methyl caps than their siblings who had been conceived in non-famine times, when food was more abundant and accessible. But what does a lack of caps mean? The researchers think that this lack of caps could influence the expression of this IGF2 gene.
While the weight of the individuals who were born to mothers during famine times didn't show any link to the IGF2 methylation – which you might expect because the gene is linked to growth – the researchers did find that a reduced number of methyl caps is associated with colorectal cancer. Researchers think that perhaps by having fewer caps, a foetus might ultimately take more energy than necessary from food. While this is a helpful thing during times of starvation, if calories aren't scarce anymore, taking this extra energy out of food could lead to diseases such as diabetes.
Importance of Health for DNA
The study is not only an interesting one in that it provides clues to how a disease can occur later in life, but it also highlights the significance of our DNA and how the diet of a mother can affect not only her own offspring's DNA but also the DNA of her grandchildren and so forth for generations. Hopefully, this study can encourage more research into the way that diet influences DNA.
You might also like...