Using DNA to Improve Food Quality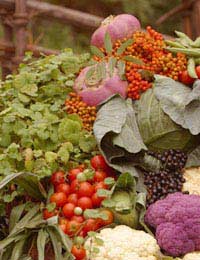 Food quality is something some of us do not even think about in the sense that it is an expected aspect of our foods, whether that is fresh produce or meats. Others spend a great deal of time hand-picking the best fruits and vegetables that have the freshest appearance, most attractive colour and most appealing overall state. Yet, it is the growers who have the challenges of providing the best product possible - one that will sell easily and provide them with an excellent profit for their labour and associated costs. The concept of genetically modified (GM) foods is an important one for farmers when it comes to growing the best quality fruits and vegetables. In fact, GM technology can also be applied to livestock, where it could provide leaner animals that have a more pleasing flavour and texture.
What is Genetic Modification?
With genetic modification, a desirable gene from one organism is inserted into one that does not normally have that gene. This provides the recipient organism with the desired characteristics from that specific gene. For example, a gene from a cold-water fish can be inserted into a vegetable to increase its resistance to cold, thereby extending its growing season. Genetically modifying crops is a technology that is meant to tackle issues such as crop yields, pests and the aesthetics and shelf-life of foods.
Crops Resistant to Herbicides and Pesticides
One advantage of GM crops is that they can be engineered to be resistant to herbicides and pesticides, which avoids pests and improves food quality. Through GM technology, farmers can spray crops with pesticides, thereby destroying weeds while simultaneously leaving crops unharmed. Farmers also benefit from reduced costs when GM crops that are engineered to be herbicide and pesticide resistant are used. The reduced use of pesticides also holds an additional benefit of reducing toxins released into the environment.
Weather Conditions and Food Quality
With farmers essentially at the mercy of poor weather conditions, GM crops can help them to handle a drought by being engineered to withstand such conditions. This ensures a stable, quality crop as well as profits for the farmer and high quality food for the intended population market.
Livestock Quality and GM Technology
Another important aspect of GM technology for improving food quality relates to livestock. Through GM technology, animals could potentially be made much more lean and also modified to require a smaller amount of food, thus reducing feeding costs. There is also potential for increasing milk output in cows. All of these techniques could result in greater productivity and the reduced costs could also transfer to the buyer as well. GM technology could even provide other benefits to livestock such as reducing outbreaks of diseases, including foot-and-mouth disease. There are also possibilities for improving the food quality of seafood such as salmon. With GM capabilities, salmon could grow much more rapidly although safety testing is still needed to assess any effects on human health.
Future of GM Foods and Improved Quality
While GM foods remain a controversial topic and have yet to show long-term studies for their safety, they still hold promise for improving our food quality. They may eventually increase the shelf life of foods and reduce or remove worms and viruses from our food. There is even potential to remove unwanted traits such as caffeine. Instead of coffee beans requiring processing to make them decaffeinated, they could be grown caffeine-free. It is hoped that research continues but that caution is used before foods are approved for consumption. This way, we can obtain the benefits of GM technology without compromising safety and health.
You might also like...