Risks of DNA Methods in Agriculture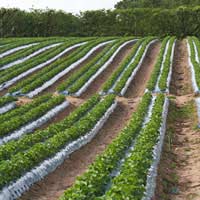 DNA technology has been important for the development of genetic modification in agriculture. At the same time, there are still numerous risks that should be acknowledged and investigated before these techniques can be comfortably accepted by all of the public and scientific community.
What is Genetic Modification?
Genetically modification (GM) involves the manipulation of desired and undesired traits in an organism. What this means is that scientists can isolate desired genes in one organism and then insert these into another one that normally lacks those genes. This allows the recipient organism to display the same traits for that gene. One example would be using a gene from a cold-water fish to insert into a tomato to improve its ability to withstand the cold, thus increasing the length of its growing season.
Concerns Regarding GM Technology in Agriculture
Generally, the primary concerns in agriculture with regards to GM foods are centred around environmental risks and health or safety risks to humans. Environmental damage is a potential effect of GM technology in agriculture. There are still no long-term studies assessing risks and this means that we do not actually know what effect will occur from GM crops in twenty years, for example. An organism's genome is extremely complicated and side effects could be quite numerous. The insertion of a gene into such a complicated structure can entail side effects that may take years to come to light.
Herbicide Resistance
Another possible risk that is carried by GM technology in agriculture is that the pests that a crop was engineered to resist could become resistant to the crop and could cause damage. Another worry is that when a crop is engineered to be resistant to a herbicide, this resistance may eventually be passed on to weeds, which will ultimately destroy crops. Still another fear is that if an identifiable problem occurs with a particular GM crop, it may spread to the environment, which means we will not be able to control its growth and the spread of the undesired consequence.
In one case, a type of beet was engineered to have resistance to a specific herbicide. Unexpectedly, the beet also was able to acquire the genes to have resistance to a different herbicide. After an attempt to destroy the crop, it was still found that a small percentage had survived. Farmers ultimately had to use more toxic herbicides to remove the remainder of the crop.
Food Chain Challenges
Another fear regarding GM technology in agriculture is that a pesticide produced by the GM crop could end up causing harm to animals. In one instance, a GM crop did successfully reduce weeds as intended but there was an unintended side effect. The Skylark bird in the United Kingdom was left to find other sources of food because the birds had normally relied upon seeds from this weed in the latter half of they year.
Yet another worry is that those animals that eat a certain crop could suffer ill effects from unintended effects of genetic modification. If the crop is engineered to display certain pesticides, this could essentially poison animals that consume the crop. In one disturbing example, almost half of the monarch butterfly caterpillars were killed after feeding on a substantial meal of pollen from GM corn. Scientists are concerned as well about the potential for genes from GM crops to transfer to animals.
Allergic Reactions and Illness
There is also the potential for humans to develop allergies to GM foods. Antibiotic resistance is a further issue and some worry that if, for example, a gene from a nut is inserted into another food, this could trigger allergic reactions in some people. Humans may even become ill because of the use of viral and bacterial DNA for genetic modification. There is a fear that new diseases may develop or that antibiotic resistant crops may transfer this resistance to humans, leading to 'superbugs.'
All of these concerns are important and valid ones. It is no surprise that many members of the public and some members of the scientific community are still hesitant to support GM technology in agricultural development. We clearly do need long-term studies as well as more in-depth, short-term studies to assess the impact of GM techniques. Until then, it is hoped that more countries will require mandatory labelling of GM products to ensure that consumers at least have a voice in choosing if they wish to support GM foods or not.
You might also like...