Genetically Modified Foods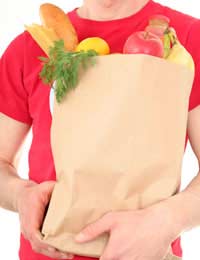 Genetically modified (GM) foods are a concept that involves much debate and controversy. The term is used for food crops that have been modified through a specific range of techniques that give the crops completely new or improved qualities. Some of the modifications include:
Improved nutritional content
Enhanced ability of crops to tolerate cold
Pesticide resistance
By genetically modifying foods, technologists can insert the gene from one organism into another organism that does not normally carry that gene. The organism's genes may be sourced from one or more other organisms, depending on the desired effects. For instance, bacteria are commonly used. One example are the genes from a particular type of bacteria, which has a protein that kills insect larvae. By inserting this gene into corn, the corn will essentially create its own pesticide, which means it can resist many insects.
Benefits of GM Foods
GM foods are highly controversial with numerous purported benefits along with concerns regarding their use. Those who support GM foods believe that their development can ensure sufficient food to feed our rapidly growing population. With land generally a static factor and the population growing, GM supporters cite the need for increasing food output and quality. Genetically modifying foods is thought to provide an important solution to this problem.
A frequent worry for farmers is weather. In a sense, farmers are at the mercy of the weather, where a drought can ruin an entire season of crops and damage the soil for future yields. Other worries include pests and diseases, which can destroy crops or significantly lower yields. Through genetic modification of crops, however, genes can be introduced that provide the crop with resistance to many extremes of temperature or various insects and diseases. One example is where potatoes have received a gene from a cold-water fish that is tolerant to such temperatures. This measure has increased the length of the growing season for the crops.
Yet another benefit of genetically modifying foods is that their nutritional content can be vastly improved. In places where the population survives on only a few staple foods, improving the vitamin content of a food can help to prevent micronutrient deficiencies, which can ultimately improve the livelihood and economy of the entire population. For instance, rice is a common staple food but is missing many nutrients that are necessary for human survival. Through the advent of 'golden rice,' it was made high in vitamin A, thus providing a valuable and necessary nutrient for the many populations who are deficient in this vitamin and tend to have rice as a staple food.
Concerns Regarding GM Foods
With all of the benefits to GM foods, there are easily as many criticisms of the technology. For instance, there are numerous qualms regarding the environmental impact of GM foods. This type of technology can impact other organisms despite the best of intentions to avoid any scatter effect. GM seeds can be blown by the wind to other crops and organisms, which may then suffer ill effects. There may also be unexpected results from the combination of GM crops and other, non-GM crops when crossbreeding occurs.
There are also ethical and economical concerns in terms of profits that farmers can accrue from GM foods that grow in their fields but are also unknown to them. In fact, this was shown in a case with the company Monsanto. A farmer was sued when he claimed that seeds from a nearby field blew into his field. Monsanto argued that the farmer stole the seeds. The judge ruled that it was not important how the seeds got into the farmer's field, even if it was a case of the wind blowing in the seeds. The fact remained that it was an infringement on Monsanto's patent on the GM seeds. Thus, the farmer was forced to pay his profits from that year to Monsanto because it was ruled that the presence of the GM seeds brought about profit for the farmer.
Still another argument against GM foods is that insects may be able to resist toxic products from GM foods. This means that eventually, they may grow to difficult levels and we will be unable to handle their numbers and effects years down the line. Perhaps one of the most worrisome aspects of GM foods is the concern that they may harm human health. Worries of allergic reactions from mixing genes are a reality, particularly if it involves, for example, a gene from a common allergen such as a nut.
Making an Informed Choice
While many scientists consider GM foods to be beneficial and largely safe, others cite numerous concerns regarding this technology. Unfortunately, we have yet to see any solid and conclusive long-term studies on GM foods to appease the concerns. Until that time, the technology will hopefully be tested for its merits and available for use with caution.
You might also like...