DNA and Agricultural Yields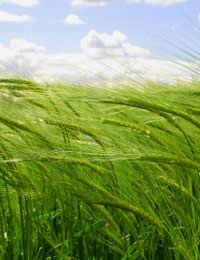 You may wonder how DNA could possibly relate to agricultural yields, but the link is actually quite an interesting one that is a curious mix of nature and technology. Agricultural yields can be increased through the use of genetic modification (GM), which relies on taking coveted properties from one organism and inserting these genes into another organism to create those same desired effects. The idea behind increasing agricultural yields is to provide more crops at reduced costs. While genetically modified crops have generally been created to feed people in developed nations, research has suggested that their use in developing countries has been far more beneficial.
Benefits of Improving Agricultural Yields
One of the key benefits of improved agricultural yields has been that they are thought to help battle poverty and hunger in developing and third world countries. In fact, in one trial of cotton, yields were eighty percent higher in GM crops than in non-modified crops. Even researchers were surprised at the enormous difference between the two types of crops. The increase in agricultural yields is considered a sustainable form of development and it also carries the benefit of reduced pesticide use because GM crops are sprayed less frequently than non-GM crops.
Concerns Regarding Technology to Increase Crop Yields
There are, however, still many concerns regarding the practice of increasing agricultural yields through genetic modification. Many environmental crusaders cite that this type of technology has many flaws and that any increase in yield is only temporary because insects and similar pests will eventually become resistant to the GM crops. Still, others argue that even if the benefit is only short-term, it is still a valuable one for farmers in developing nations. Many farmers cannot afford the constantly increasing cost of pesticides and their yields are jeopardised. By using GM crops, the pesticide resistance can allow them to provide greater yields at a reduced cost in terms of pesticides. It is also important to note that tropical climates can bring with them even more difficult pest challenges, which means that pesticide resistant crops become more important in this climate.
Future of GM Crops and Improving Agricultural Yields
The controversy of GM crops will not likely end soon, at least not until long-term studies have been performed to assess their merits, efficacy and safety. The improvement of agricultural yields is a constant and important issue for farmers. Indeed, their profits and livelihood depend on the provision of substantial agricultural yields each year. In fact, the livelihood of the entire community will also depend, in part, on adequate crop yields - particularly in developing nations where staple crops may ultimately provide most of the population's food. The ability to improve these yields through GM crops is an important issue to consider but the long-term implications regarding pesticide resistance must also be acknowledged and addressed.
Research will also hopefully include these concerns and perhaps better GM crops will be developed that can afford consistent and lengthy pesticide resistance. Until that time, alternatives to GM crops should still be considered, specifically ones that do not entail the numerous challenges, questions and controversies of GM crops.
You might also like...