DNA and Inflammatory Diseases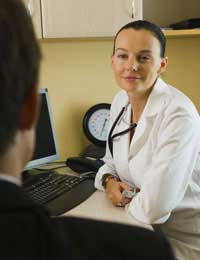 Inflammatory diseases affect many people and can impact virtually every cell in the body. The sometimes chronic nature and progressive detrimental impact of inflammation can leave sufferers struggling to find effective treatments that combat the effects of the inflammation as well as the causes. The role of DNA in inflammatory diseases is an important one and new research has improved our understanding of how inflammation occurs and how DNA is involved in its onset and continued occurrence in the body.
What are Inflammatory Diseases?
Inflammatory diseases are those that are associated with inflammation. Inflammation occurs as a response to harmful stimuli. The stimuli could be cellular damage, pathogens or an irritating substance or chemical. Inflammation is your body's attempt to essentially get rid of the offending stimuli and heal itself. Inflammatory diseases involve long-term - or chronic inflammation - which is different from the acute inflammatory response that would occur from a wound, for instance. Inflammatory diseases can lead to cellular damage, tissue destruction and a range of painful symptoms throughout the body.
There are many disorders that involve inflammation. These include:
Asthma
Autoimmune diseases
Bowel disorders
Allergies
DNA and its Relationship to Inflammation
Newer research into DNA and inflammatory diseases has shown how the immune system prompts inflammation to occur. Researchers at a university in Canada found a specific path within a cell that recognises host DNA. It is after the DNA triggers the activation of this pathway that an inflammatory reaction begins. The research itself had an interesting start because it initially focused on the ways our immune systems react to the cold virus. After the researchers infected cells with the virus, they found that the viral DNA caused inflammation, which led them to then look into ways that a cell's own DNA might cause the same response. As expected, the cell's own DNA did just that and the team concluded that the immune system senses the DNA as a signal that basically shouts 'help,' thereby prompting inflammation.
Since the study has indicated there is a pathway whereby host DNA can be detected, research can ideally now begin to focus on finding out how specific inflammatory disorders can relate to weakened DNA in a person's body. The study is also a fascinating complement to other research studies that have shown pathways that detect the DNA of a foreign invader such as bacteria or a virus. However, never before was it shown that there was a pathway to detect a person's own DNA. It is hoped that researchers will now find ways to limit the effects of this pathway to improve outcomes for those who suffer from one of the many detrimental inflammatory disorders.
DNA, Enzymes and Inflammation
Other research has looked at how poorly functioning enzymes in DNA can impact inflammatory conditions such as asthma. If you picture DNA in a rest state, it is very compactly wound but when a gene is turned on, the part of the DNA where it resides is slightly unwound from histones. Histones are important to maintaining the structure of DNA because they allow its long length to be wound so it can fit into compact spaces. When DNA is slightly stretched out after a gene is activated, the cell translates the gene's instructions to proteins. In turn, the proteins can read the DNA - similar to a locked door being opened so that the proteins can 'read' what is on the other side.
Your body has enzymes that regulate this winding and unwinding aspect of DNA by changing a histone's shape. In inflammatory disorders, it is the unwinding enzymes that are more active than is required, which means that numerous genes known to trigger inflammation unwind and become active. Researchers have learned more about how corticosteroids - medications frequently prescribed for inflammatory conditions - reduce this excessive activation of the genes involved in inflammation.
The medications work to wind the DNA back up by targeting sections of DNA. The research has also helped to explain why side effects from corticosteroids occur. Since corticosteroids also turn off genes that do not play a role in inflammation, individuals who are prescribed corticosteroids suffer from side-effects when they undergo treatment for a long period of time. Still, our improved understanding of how inflammation works can now help scientists to develop more effective steroids with fewer side-effects. Ultimately it means that those who suffer from inflammatory diseases may have newfound hope for treatments or a cure.
You might also like...
Just had some lab tests done and was told I had an autoimmune disease/disorder. Waiting to see a rhumetologist in February.Find this DNA article interesting. Wondering if this is something that this doctor will have done. Remembering I had a septic knee about 3 years ago. Had emergency surgery and had a pic line inserted. Bombarded me with all types of antibiotics hoping one would kill the bacteria.Nervous about going but will go.
Maggie
- 17-Nov-18 @ 12:36 AM