Cancer and DNA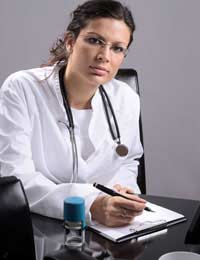 With hundreds of thousands of Britons receiving a cancer diagnosis each year and millions around the world being diagnosed, the aim to successfully treat cancer is an important one for researchers. Our knowledge of cancer thus far has shown it to be a complex disease that involves numerous factors such as genetics, lifestyle and environmental factors. The area of genetics is a particularly vital one because it is suggested that our genes are the starting point for disease susceptibility and in some cases, genetics are the determining factor while in other cases, this predisposition to cancer can be triggered by lifestyle and the environment.
DNA Damage and Cancer
DNA damage is not an unusual or isolated event. Rather, we all suffer from DNA damage within cells during our lives. When DNA is copied, many mistakes can and do occur - the process is not a perfectly efficient one. As such, mistakes will occur and these may be rapidly repaired by DNA repair systems or they may accumulate, particularly due to ageing or if the body is repeatedly exposed to a harmful stimulus over time. Add to this the fact that by-products from normal metabolism and other required reactions in our bodies may trigger damage to DNA, and you can see how damage to our DNA can actually occur quite easily.
If you think about other aspects of life, such as your environment, consider things like smoke, radiation from the sun and other toxins. All of these parts of our day-to-day environment can cause repeated damage to DNA in cells. The consequences can mean a constant barrage of damage throughout the day, all of which each of your cells must withstand. Yet, not everyone ends up developing cancer, so clearly the combination of the body's repair systems, biochemistry, familial history, lifestyle and likely many still unknown factors come together to protect the body from cancer. In most cases as well, a cell can repair damage to DNA quite well and the body has some resilience to mistakes in DNA copying. In fact, even major DNA damage can be addressed through signals for cell apoptosis, which is the way a cell is programmed to die where appropriate.
When DNA Repair is Unsuccessful
Even with your body's systems of repair and resilience to damage, the body can still become overwhelmed with damage and cancer can occur. Also perhaps surprising is that cancer can be caused by malfunctions and mutations in the genes that govern the cell repair itself. This means that mutations may initially occur, followed by mutations in the mechanisms for repairing these initial problems. Thus far, genes have fortunately been identified with regards to mutations linked to cancer.
You may have even heard the terms already in the media. The first are tumour suppressor genes, which work to fix DNA errors, direct apoptosis and also affect the rate of cell division. If damaged, tumour suppressor genes can lead to cancer. The second are oncogenes, which are mutated forms of normal genes known as proto-oncogenes. Oncogenes carry DNA sequences known to lead to cancer. There are, of course, other genes that can mutate and may also improve a cancer's ability to persevere in a person's body. Such genes may facilitate 'better' delivery of the cancer to other areas of the body or may work to shield injured cells from apoptosis.
Looking Ahead to DNA and Cancer
There is still much about cancer that remains unknown but our knowledge has progressed rapidly and continues to improve with each new discovery. The area of DNA and genes is a crucial one with regards to cancer and it is hoped that the researchers continue to focus on this area with the aim of obtaining important information that can improve and save the lives of those who suffer from cancer.
You might also like...