DNA Mutation Diseases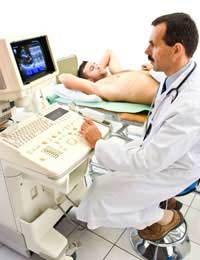 The phrase 'DNA mutation diseases' does not actually refer to a medically defined collection of diseases but rather, it refers to diseases where we have identified DNA mutations as one cause of perhaps many for that specific disease. Learning about DNA mutations is important to help us discover ways to identify those most likely to develop the disease and then find appropriate ways to prevent or treat disease.
Heart and Muscle Disease
One basic mutation in mitochondrial DNA has been suggested as a cause for heart and muscle disease. All human cells have mitochondria and they also hold DNA. Mitochondria produce energy through the metabolism of calories that you consume from food along with the oxygen you inhale.
In this process, mitochondria also create oxygen radicals, which can harm the mitochondrial DNA, resulting in a greater number of mutations in body tissues. Unlike a cell's DNA, mitochondrial DNA is found around the cell's nucleus. It is also inherited only from the mother. It is when mitochondrial DNA damage builds up - typically associated with ageing - the body no longer produces energy as effectively and efficiently. Tissue and organ deterioration follows and disease may occur. Unfortunately, the energy metabolism of mitochondria make them particularly susceptible to mutations. With improved understanding of mitochondrial DNA mutations, however, we can pave the way for new treatments for heart and muscle disease.
Breast and Ovarian Cancer
Our knowledge that breast and ovarian cancer is caused by genetic factors in a small percentage of the population is not new information but our discoveries of specific genetic mutations have occurred more recently - over the past two decades. In the mid 1990s, it was found that the gene BRCA1, when mutated, significantly raised a person's odds of developing breast cancer. Shortly thereafter, another gene known as BRCA2 was identified, which also has been found to raise a person's risk of breast cancer.
Researchers now are aware that any mutations in these two genes can also raise a person's risk of ovarian cancer. In fact, this risk is higher for individuals of Ashkenazi Jewish background. Research has also shown that BRCA1 mutations may increase the risk of other cancers such as colon or prostate. Mutations in the BRCA2 gene are suggested to increase the risk of other cancers such as those of the pancreas or prostate. More studies are being performed now to investigate any possible links between these two genes and other forms of cancer such as skin or lung cancer.
Alzheimer's Disease
Alzheimer's disease tends to run in families, which means that if a person in your family suffers from the disease, your risk of developing the disease is higher than the general population. One reason for this elevated risk is due to mutations within genes in your DNA. Researchers have now identified a handful of genes that play a role in the development of early-onset Alzheimer's disease but they have yet to conclusively identify a gene that triggers late-onset Alzheimer's disease. The inherited genes that have been identified include APP, presenilin-1 and presenilin-2. Due to the dominant inheritance of these three genes, you only need to inherit a single copy of the gene mutation for development of the disease. The relationship to early-onset Alzheimer's disease means that those who do inherit a mutated form of the gene are likely to develop Alzheimer's disease prior to age sixty-five.
Reducing Your Risk
Having a DNA mutation does not automatically mean that a person will go on to develop the disease. There are many suggestions within the scientific and heath communities regarding preventative action that may help to reduce a person's risk of disease. Some of these actions can also benefit those without the disease markers but are particularly recommended for people who are genetically susceptible to a specific disease. Lifestyle changes can provide enormous benefits. For example, if you have a family history of skin cancer, you can decrease your exposure to the sun and wear clothing that helps to protect you from the sun's radiation. People with heart disease can eat a healthy, balanced diet of whole foods and exercise regularly, alongside any preventative medications recommended by their doctor.
You might also like...
good information.........now i know what are the diseases that the dna mutation can cause.......:)
liez12
- 23-Jan-13 @ 5:35 AM
very good and useful information !
ASH
- 25-Mar-12 @ 7:45 AM