DNA and Alzheimer's Disease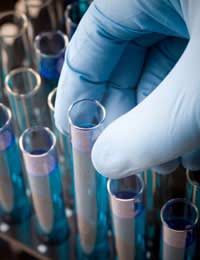 DNA discovery was important not only to teach us about inheritance and genetics, but also because it has offered applications for learning more about disease and developing successful treatments. In the case of Alzheimer's disease, DNA has been important in providing clues to the risk factors for developing the disease.
What is Alzheimer's Disease?
Alzheimer's disease is a progressive brain disorder that is characterised by dementia, which involves a loss of intellectual abilities such as memory. The disease worsens as time goes on and is fatal. It essentially destroys brain cells, thereby impacting memory and thinking to the point of affecting a person's daily life. It can prevent a person from working, socialising and ultimately, enjoying life. Despite having learned a great deal about the disease over the last several decades, there is still currently no cure.
DNA and its Importance in Alzheimer's Disease
Our identification of DNA has been important to current research into Alzheimer's disease and treatment to slow the progression of the disease or prevent its onset. A team in the United States has focused on a specific gene that increases a person's risk of developing Alzheimer's disease. If you are familiar with the basics of DNA, you will likely recall that a chromosome contains DNA. Following on that premise, DNA contains genes, which is one key reason why it is called the genetic code for life.
Researchers identified a unique location on chromosome 10 that they believe plays a role in a person's susceptibility to Alzheimer's disease - a disease affecting millions. Also, researchers have looked at single-nucleotide polymorphisms (SNPs), which are regions of DNA where changes have occurred. The concept of SNPs involves comparing a number of regions of DNA from a population. Though the comparison, researchers can see places where there are variations. When they identify a specific spot where there is a variation, this is known as a SNP. While most SNPs don't actually have dire effects on disease, some can cause significant health issues. In the case of Alzheimer's disease, this is particularly true. There is a SNP in one gene that increases a person's chances of developing Alzheimer's disease.
Although researchers are still trying to focus in on the gene itself, they do know that the SNP thought to increase the risk has six genes. The goal is to target the one that is responsible for the raised risk of Alzheimer's disease. In fact, it has been suggested that five to ten genes will ultimately be shown to increase risk factors for the disease and it is expected that more than one of those genes will be evident in the identified SNP on chromosome 10.
Also important will be the extent of the risk factor itself, which researchers still have yet to learn. Even though they can cite where they think the risk lies with regards to the six genes in the SNP, they still will need to assess just how significant the risk factor is for a person. With Alzheimer's disease affecting so many people around the world, it is likely that research will continue and that it should yield more clues into the links between DNA, genes and increased risk of the disease.
You might also like...