Autoimmune Diseases and DNA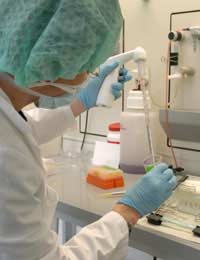 Autoimmune diseases affect millions of people and can be particularly frustrating to treat, especially given that there is still much we do not know about their causes. In recent years, however, DNA vaccines have shown promise for treating autoimmune diseases. While the results are still only preliminary ones in laboratory animals, there is a great deal of hope that continued research will yield improved techniques and information regarding DNA applications for autoimmune diseases. Before understanding the link between DNA and autoimmune diseases, however, it helps to have some basic knowledge on autoimmune diseases.
What are Autoimmune Diseases?
Your immune system protects you from an enormous range of diseases, infections and viruses. With an autoimmune disease, however, your immune system mistakenly attacks its own tissues and cells, leading to illness. Autoimmune diseases can affect virtually any part or system in the body, from connective tissues to nerves, muscles or digestion. Autoimmune diseases include diseases such as:
Rheumatoid arthritis
Crohn's disease
Diabetes
DNA Relationship to Autoimmune Diseases
Experiments with mice have shown that there is potential to use DNA vaccines to treat a variety of autoimmune diseases, including multiple sclerosis, type 1 diabetes and rheumatoid arthritis. The aim would be to reverse the course of the disease by pinpointing the aspects of the immune system that have malfunctioned and then making specialised therapies that are tailored to each patient.
An autoimmune response is believed to happen when antibodies attack different proteins in the organ that is the target. So basically, researchers want to find a way to stop the harmful response without damaging the healthy parts of the immune system. One research team has used a process known as tolerisation. In this technique, they trigger the immune system to be tolerant of the 'harmful' protein after they inject the protein or even smaller parts of the protein into the human body. If you suffer from allergies and have ever received allergy shots, the mechanism is somewhat similar. The team then created a tolerising vaccine to administer the proteins. To do this, however, they needed a way to effectively deliver the vaccine. They placed the DNA sequence that coded for the proteins into a round piece of DNA known as a plasmid, thereby creating a DNA vaccine. Once injected, the modified plasmids created the proteins needed and thus began the tolerisation process.
Benefits of a DNA Vaccine
There are different methods of tolerisation but the DNA vaccine is considered one of the most useful and advantageous. DNA vaccines allow many autoimmune targets to be effectively tolerised at one time. It is considered a new and promising way to immunise a person and essentially works in the opposite way of traditional vaccines, which stimulate the immune system to attack an invader.
Future of Autoimmune Diseases and DNA Applications
The incidence of autoimmune diseases is rising and new treatments are needed to stop the devastating consequences of these illnesses as well as reduce the mortality associated with the diseases. Since the discovery of DNA, we have learned a great deal in terms of its applications for disease management. Hopefully, continued research into autoimmune diseases, DNA vaccines and other related DNA treatments can provide promise for those who suffer from autoimmune diseases.
You might also like...