Mitochondrial DNA Analysis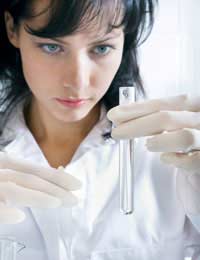 Mitochondrial DNA analysis is a somewhat different type of DNA analysis compared to other techniques used today. It generally works well on samples that are unable to be analysed through numerous other techniques. To understand how mitochondrial DNA analysis works, however, it is important to have a sense of how a cell is structured.
Understanding Cells and Mitochondrial DNA Analysis
There are two kinds of DNA in the cell - mitochondrial DNA and nuclear DNA. With other types of analysis, nuclear DNA is removed from the sample but with mitochondrial DNA analysis, DNA is removed from the cell's mitochondrion. Sometimes, a sample can be old and will no longer have nuclear material in the cell, which poses a problem for the other types of DNA analysis. With mitochondrial DNA analysis, however, mitochondrial DNA can be removed, thus having important ramifications for cases that were not solved over many years. Mitochondrial DNA will be the same from a woman to her daughter because it is passed on from the egg cell. This means that mitochondrial DNA analysis can be very valuable in investigations for a missing person.
Benefits of Mitochondrial DNA Analysis
Mitochondrial DNA analysis is well suited for the field of forensic science, particularly to create DNA profiles from types of evidence that might not be appropriate for other DNA analysis techniques such as restriction fragment length polymorphism (RFLP) or short tandem repeat (STR) analysis. A key difference between these types of DNA analysis is that RFLP and techniques such as polymerase chain reaction (PCR) analysis use DNA that is extracted from the nucleus of a cell whereas mitochondrial DNA analysis utilises DNA found in the mitochondrion.
As mentioned, a DNA sample may be old and will not have nuclear matter left in the cell. Samples that involve very old bones, teeth or hair shafts are simply not feasible to analyse through techniques such as STR or RFLP analysis. Mitochondrial DNA analysis, however, works quite well for these types of samples. As such, it is a valuable technique that can analyse evidence that would otherwise have been rendered useless through another analytical technique.
Another benefit of mitochondrial DNA analysis is that it can be successful for analysing evidence degraded through issues such as improper storage. Sometimes, PCR analysis can still work on a degraded sample but the evidence may ultimately be extensively degraded such that even PCR analysis is unsuccessful. In these types of cases, mitochondrial DNA analysis can be highly effective.
Yet another benefit of mitochondrial DNA analysis involves missing person cases. In a family, the maternal members such as an individual's mother or grandmother have identical mitochondrial DNA. Thus, if there are unidentified remains that require analysis, they can be compared to the mitochondrial DNA profile of a maternal relative, which then allows for identification of the missing person or remains.
Mitochondrial DNA analysis is a valuable technique and its applications are relevant to many different fields. It clearly holds numerous benefits over other techniques, notably in cases where DNA is so degraded that other techniques simply will not analyse the sample. The technique will likely be refined further to provide even more success in the future.
You might also like...
Do two strands of DNA have same or different information?
wilriz
- 2-Feb-13 @ 2:35 PM
Does DNA store information in 3'-5' direction or 5'-3' direction?
Wilriz
- 2-Feb-13 @ 2:32 PM
This was pretty cool, I want to be a criminolgist.
Sammy
- 22-Mar-11 @ 1:48 PM