An Overview of DNA Functions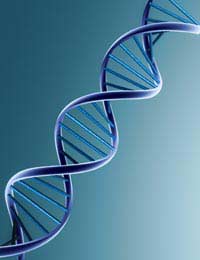 The functions of DNA are vital for inheritance, coding for proteins and the genetic blueprint of life. Given the enormity of DNA's functions in the human body and its responsibility for the growth and maintenance of life, it is not surprising that the discovery of DNA has led to such a great number of developments in treating disease. DNA holds the instructions for an organism's development and reproduction - ultimately, its survival.
Coding for Proteins
DNA holds the code for proteins, which are complex molecules that do huge amounts of work around our body. Information in DNA is initially 'read' and then it is transcribed into a messenger molecule. After, the information held in this messenger molecule is translated into a 'language' that the body can understand. This language is one of amino acids, which are also known as the building blocks of proteins. It is this specific language that dictates how the amino acids should produce a particular protein. If you think about the twenty different kinds of amino acids, you can see that the ordering can produce an enormous variety of proteins.
DNA Replication
DNA replication is vital for a virtually endless list of functions, from reproduction to maintenance and growth of cells, tissues and body systems. To copy itself, a DNA molecule essentially 'unzips,' thus resulting in a series of bases without pairs along the backbone of the molecule. DNA has four bases - all part of a nucleotide that also consists of a sugar and phosphate. The four bases in DNA are very specific about which base they will attach to, which means that adenine only pairs with thymine and guanine will only pair with cytosine. As the nucleotides connect with unpaired bases on the backbone of the DNA molecule, they build a new strand that complements - or matches - the original sequence. The end result is a strand that is a perfect match to the original one prior to it unzipping.
Cells in your body replicate for purposes such as making new skin or blood cells. When mistakes occur, there are repair systems in place to remedy the mistake or alternately, a cell has a marker for destruction. If a cell survives a mutation, there are still benefits to an organism. In fact, this concept is essentially the basis for evolution.
Genetic Code
DNA is important in terms of our genetic code, in the sense that it transfers genetic messages to all of the cells in your body. If you think about DNA in a reproductive sense, consider that the joining of an egg and sperm to create your first cell provided your completed genetic code that your body would use for all of your life. Within that initial cell, half of your chromosomes - containing your DNA - came from your father and half came from your mother.
DNA clearly plays important roles in the human body and is one of the most significant discoveries of the twentieth century. Our continued research and knowledge of DNA functions will likely help us to learn even more about this important molecule.
You might also like...
It's quite true that DNA was discovered by Crick and Watson based on the study I had on other sites... But I'm surprised you made no mention about DNA being a modified form of RNA
Lady Vee
- 8-Dec-17 @ 8:21 PM
very useful and much help (o-o)
tyrone
- 18-Sep-17 @ 6:36 PM
What is the function of DNA ? Why is it so important?
Josze
- 6-Jun-17 @ 7:13 PM
Much smart very wow Very Helpful Good Grades
Doge
- 10-Jan-17 @ 3:08 PM
Which three scientists directly contributed evidence for the discovery of the role of DNA? What instruments were necessary before the DNA could be found? What theory did these scientists provided evidence for? How did the earlier scientists and their contributions directly affect the discoveries of later scientist (see#2)? For example, what had to come first?
Burito
- 2-Dec-16 @ 1:12 PM
the full form of DNA is deoxyribonucleic acid
yoly
- 25-Jul-16 @ 2:20 PM
having a full information about dna codes..we can treat a no. of diseases mostly which are heriditry...like obesity.
khan
- 10-May-16 @ 9:43 AM
Thanks for this, is really helped with one of my science assignments :)
Antone
- 24-Feb-16 @ 12:24 PM
This is very good information, an A+ is garanteed in my assignment. Thank you!!!!!
stylez
- 21-Nov-15 @ 10:44 PM
DNA is the reflection of individuals, including the habbit and the difference of individuals. Besides, it will inform us about our healthy condition. Genomics sequencing is one important way to help us know the function of DNA.
sherlin
- 6-Oct-15 @ 7:56 AM
This site is perfect in teaching the basics of DNA. Good job!!!
DNA
- 20-Apr-15 @ 2:38 AM
DNA is the genetic instruction guide for life & its processes.. Pls give me some more functions...
ishi
- 6-Apr-15 @ 6:32 PM
Actually the sites is the best.
mukipe
- 8-Feb-15 @ 6:49 PM
DNA in the body also contains Nucleosides and nucleotides in Which both contains purine and pyridine that are complex compound containing a nitrogenous base like adenine,thymine,quanine,and cytosine which are constituents of nucleic acids For the protein building blocks.
Fifxty
- 17-Feb-13 @ 4:35 PM
It must now be made simple that what Mendel called unit factor and Johansen called gene is infact a gene battery - a group of closely related cistrons and regulators in DNA that govern synthesis of all enzymes needed for complete expression of a specific character
Wilayat Rizvi
- 2-Feb-13 @ 2:16 PM
I suggest that in future Genetic Code be defined as the sequence of codons in DNA that determines the sequence of codons in mRNA and ultimately the sequence of amino acids in peptide chains
Wilayat Rizvi
- 2-Feb-13 @ 2:07 PM