Using DNA and for Immigration Purposes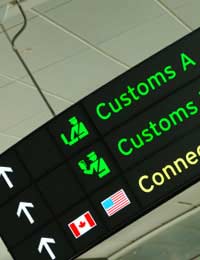 As we have continued to learn more about DNA since its discovery, the applications related to this molecule have opened up to extend into areas such as immigration. DNA testing is now used regularly when assessing and determining immigration applications, whether they involve a move to be close to family, application for a work visa or a green card.
To understand how DNA is so useful in this area, however, it's important to understand some of the basic aspects of DNA. While you may wish to read in-depth on its structure, you can appreciate the link between DNA and some aspects of immigration if you think about the fact that DNA is the genetic material that is found in all of the cells in your body. It is in your hair, skin and blood – DNA is the unique blueprint that makes up the human genome. DNA is also inherited, which is a key factor to consider when we look at its use in testing for immigration applications. Its importance relates to the fact that the DNA from one blood relative to another is quite similar.
Using DNA Testing for Immigration Purposes
DNA testing is basically comparative testing, which allows for two DNA samples to be sequenced and compared to see if two people are biologically related. Typically, the DNA would be sampled from a quick swab inside a person's mouth or possibly a blood sample. Most developed nations use DNA testing on a routine basis when assessing immigration applications. It is an accurate way to give evidence of the claimed relationship between two relatives. While there are other types of evidence such as a birth certificate, these kinds of evidence may not be readily available. As such, DNA testing for immigration fills the gap. Usually, an immigration department will ask for DNA samples to be used for testing if they feel that current evidence is lacking or insufficient.
Why DNA Testing for Immigration?
Each country has various laws and regulations pertaining to immigration. If one family member is already a citizen, for example, the country may allow for immediate family members or extended family members to also enter on the grounds sufficient evidence exists to prove the relationship. Whether the situation is one that involves the granting of a visa or more permanent status, DNA testing is a relatively straightforward process to ensure that accurate evidence is provided. Although applicants are not forced to undergo DNA testing in relation to their immigration application, it is in their best interests to do so, assuming they have been truthful about a claimed familial relationship.
If a person has chosen to pay for an immigration lawyer, legal advice may be to suggest that DNA testing is the best course of action prior to formally applying. If an immigration department requests DNA testing and the applicant chooses not to undergo testing, it means that the application will have to be assessed on the already existing evidence, which may not be enough for approval. As such, it is usually wise for an applicant to undergo testing when it is requested. Also, an applicant can often obtain counselling and similar forms of advice before making a decision to undergo DNA testing for their immigration application.
Importance of DNA Testing for Immigration
Making the decision to apply for immigration to a country is an important and life-changing one. It can be frustrating and difficult when evidence such as a birth certificate is not available, particularly when family members want to join one another to begin their life in the new country. With DNA testing, however, the void is accurately filled and evidence can be provided relatively quickly and completely painlessly given the ease of a swab or a blood sample. This type of testing also ensures that international applicants who are dishonest about a relationship or show false and forged documentation can be identified and prevented from entering the country. With DNA testing, a more fair and accurate system of immigration can be supported.
You might also like...
Yes,Joly the DNA test will show every instance of sex you've ever had with anyone. It will even show every episode of oral sex. THEY WILL KNOW EVERYTHING!
Loki
- 18-Jan-19 @ 6:45 PM
I have got married last 3 months ago. Now My husband is staying in USA. Already we showed all the papers for immigration & all are done by him. If i have to take DNA test then the result will be positive that i have a biological relationship with my husband. Now my Question is i had a boy friend at the very teen age & i had sex with him, If i will test DNA then it will show the happened?Or will the result show two biological relationship of mine..?? Thank you.
Joly
- 9-Jan-19 @ 6:31 AM
Hi. My surname is Higgins and I don't know anything about my Grandparents on my fathers side. We want to immigrate to Ireland and we're wondering if DNA testing alone could be used to prove ancestry? Thank you.
Dave
- 8-Nov-18 @ 2:35 PM
bb - Your Question:
I have 3 sons and 2 are not my husband's only one. Now my husband want me and the kids to join him in UK. I don't want to tell yet about the boys, what should I do.
---
Our Response:
This is an ethical issue, so you will need to make your own decision on this. If DNA testing does take place and disproves that they are your husband's biological children - you will need to have a backup plan in place to deal with the consequences.
ExploreDNA
- 17-Apr-18 @ 2:51 PM
I have 3 sons and 2 are not my husband's only one. Now my husband want me and the kids to join him in UK. I don't want to tell yet about the boys, what should I do.
Please I have a question, my partner has been asked by the home office to do a DNA test as his application is based on the children. However, the children are not his.Is there anyway round this?
Browny
- 12-Apr-17 @ 8:02 PM
When does the us embassy suggest DNA. For f2A case
Tee
- 12-Nov-15 @ 2:32 PM
I ve a daughter in Ghana and i am a usa citizen , i want to apply her usa passport since i am usa citizen she qualified automatically but i want to do DNA with approved aarbb to attarch withthe application, is it possiblethe embassy will accept it?
koo agyei
- 4-Jul-15 @ 10:54 PM
I have applied a settlement visa for my daughter Panashe Makombore on 07/01/2014 in Zimbabwe..she received a phone call todayand they asked her to go for DNA test on Thursday in Harare...my question is myself as the father i have not received a phone call or letter for my DNA appointment...please advise..
TOB
- 22-Apr-14 @ 8:43 PM