Urine Testing for DNA Fragments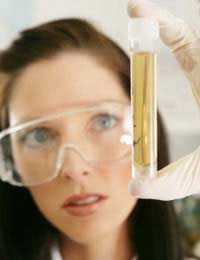 If you think about the plethora of medical tests that abound today, you might just end up thinking for a very long time. Physicians have an enormous number of tests at their disposal, most of which are extremely important to help diagnose and treat health conditions and diseases. The complexity of the DNA molecule might leave you thinking that any test associated with it would be a highly complex one but new research has surprisingly indicated the exact opposite.
Testing Urine for DNA Fragments
It may be that one day, your physician will order a relatively simple test to examine your urine for the presence of DNA fragments. These fragments could then detect diseases such as cancer, malaria and many others. Also valuable is that urine testing for DNA fragments could even detect if an organ in a transplant recipient is being rejected long before the patient shows inflammatory symptoms. The reason that this type of urine testing is feasible relates to the release of DNA. Prior to a typical test being capable of detecting any inflammation, the donor organ's cells release DNA following their death. Another possibility for this type of diagnostic testing would be to assess if genetic disorders are present in foetuses.
Developing Accurate Urine Tests for DNA Fragments
The concept behind the test is not a completely new one. In fact, it was over a decade ago that a scientist at a company in the United States initially found that short pieces of DNA could actually pass through the body's kidney filters to a person's urine. The researchers knew that they were on the path towards a potentially significant discovery because this type of testing may provide important data on many different conditions. One of the key benefits of urine testing for DNA fragments is that the test itself is such a simplistic, non-invasive one.
Early Diagnosis of Disease
The company has since finished research on patients with a range of mutations that have been linked with cancer, microbial infections, HIV and many other conditions. Other valuable tests include ones for malaria and parasitic infections. Researchers are particularly excited because the malaria test has surpassed current methods of testing in terms of early diagnosis. The urine test for DNA fragments can assess if malaria is present before the disease parasites have invaded liver cells. Given how many millions of children die in the first stage of malaria, this kind of early detection can have enormous consequences for saving lives and reducing morbidity from malaria.
Challenges of Urine Testing for DNA Fragments
Unfortunately, this type of testing is not without its challenges and limitations. Cancers are not all consistent in terms of their mutations, which means that urine tests for DNA are generally unable to show the precise tissue that is cancerous. Still, the tests are able to identify small pieces of RNA - a molecule similar to DNA - which could then help to find out exactly where the cancer resides in the body.
Clearly, there are barriers to this type of testing, including the need for more studies and the need to create more specialised ways to detect disorders or problems rather than simply detecting that one exists. Despite these challenges, however, the potential for urine testing for DNA fragments is enormous and could lead to early diagnosis of many diseases and thus, many lives saved.
You might also like...
Does dna enter the urine in the form of nucleuoproteins ? Or it enters alone I need explanation plz??
Olas
- 9-Dec-17 @ 12:21 AM
Will my doctor be able to tell if I use someone else's urine for a drug test if he also does DNA on it