Famous Trials and DNA Testing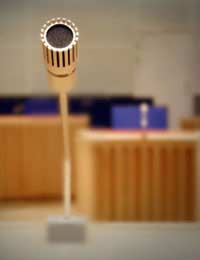 DNA testing is an intriguing information technology in itself but when coupled with celebrities and famous, highly publicised trials, it becomes even more compelling. While many of us pay little attention to the concept of DNA testing when it doesn't seem directly relevant to our lives, DNA testing becomes far more significant and meaningful when it links up to famous individuals and controversial trials. Some of the famous trials involving DNA have been notably significant in that they have freed convicted persons after years spent in prison. Were in not for DNA evidence, these men would still likely be convicted today - a depressing thought given their personal struggles, the impact on their families and also the reality of the true criminal being free in the world.
Ronald Cotton
During the mid-1980s, a college student named Jennifer Thompson testified against a man named Ronald Cotton. She cited that he had raped her, which ultimately resulted in the jury verdict of a conviction for Cotton. He was sentenced to life in prison but after eleven years in jail, he was released following DNA evidence from the crime scene. Following Cotton's release, Thompson was emotionally distressed and contacted Cotton, which has led to some healing of wounds and a friendship.
Earl Washington Jr.
In the early 1980s, Earl Washington Jr. received the death sentence for the rape and murder of Rebecca Lynn Williams. With just over a week before his execution, he was given a stay and in 1993, DNA testing offered some doubt regarding whether he was truly guilty. At that time his death sentence was reduced to life in prison. Eventually, however, advanced DNA testing was performed and he was cleared of the crime and pardoned in 2000.
O.J. Simpson
The mid-1990s O.J. Simpson trial is one of the most publicised murder trials that involved DNA evidence. In fact, it was a trial that put DNA testing into the limelight and provided education and publicity on this technology. Although DNA evidence did suggest Simpson was linked to the murders of his ex-wife and her friend, he was ultimately acquitted.
Frank Lee Smith
Frank Lee Smith was on death row in the United States for fourteen years for a murder in 1985 of an eight-year old girl. Through DNA testing, he was proven innocent of the murder although sadly, he died of cancer nearly a year before he was officially proven innocent of the charges. The DNA testing showed that his DNA did not match the DNA that was found on the girl's body. His case did, however, set precedent in that the governor decided to support DNA testing for death row inmates who cited their innocence.
We are fortunate to have DNA testing today and that it can be used not only to analyse evidence in post-conviction instances, but also that it can prevent the sad ending of years spent in jail when a person is actually innocent. The cases described here are a very sad but important example of the way that DNA has revolutionised the criminal justice system and made the system far more accurate and reliable.
You might also like...
After a 27 year battle trying to get local enforcement agency and prosecutors to reopen the case of the murder and rape of Monica Sanders, we are going to seek court order to exhume body for more DNA evidence to go along with the new evidence my wife and i have gathered over the last 15 months.We know by fact that the first trial was "controlled" we are seeking advice, someone to look at our case, and help fund the new case so Monica Sanders can have her day in court along with her Justice to the suspects.I have a summary of the case which we would be glad to send anyone interested in helping.DNA is so much more advanced then in 1988 justice can and will be served. Anyone who reads this and is willing to help Thank You.With local assistance we HAVE to look else where.
Trace
- 15-Feb-15 @ 8:08 PM