The Importance of DNA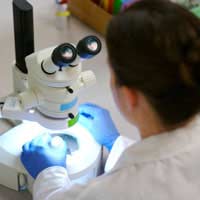 It has been argued that the discovery of DNA as well as our understanding of its structure and functioning may well be the most important discovery of the last century. The effect of the discovery of DNA on scientific and medical progress has been enormous, whether it involves the identification of our genes that trigger major diseases or the creation and manufacture of drugs to treat these devastating diseases. In fact, the identification of these genes and their subsequent analysis in terms of therapeutic treatment has ultimately influenced science and will continue to do so in the future.
Disease Diagnosis and Treatment
One important area of DNA research is that of genetics and medical research. Due to our discovery of DNA, our ability to actually diagnose diseases early on has been vastly improved. In addition, we have been able to better assess a person's genetic susceptibility to specific diseases. In doing so, we have also paved the pathway to formulate brand new drugs to treat these diseases. In fact, drugs can essentially be custom made to complement a person's personal biochemistry and genetic makeup. For those diseases that were previously considered lethal and where treatment was either non-existent or largely unsuccessful, the discovery of DNA has essentially led to breakthrough drugs and treatments for patients with serious illnesses.
Paternity and Legal Impact
While the discovery of DNA has perhaps impacted medicine the most, its contribution to other areas is still similarly significant. Paternity cases have an enormous impact on families and children around the world. Through the assessment of DNA, the paternity of a child can be identified, which has a significant effect on the child's upbringing and his or her life.
Forensics and DNA
DNA has been notably important to the field of forensic science. The discovery of DNA has meant that the guilt or innocence of a person who is investigated for a crime can be determined. It also means that scarce evidence can still yield vital clues regarding the perpetrator of a crime. Also important is that the identification of victims can occur, particularly in cases where the victim's condition is unrecognisable to family or friends. In this sense, DNA has been important in revolutionising the entire field of forensic science. This impact is felt within the criminal justice system and contributes to the accurate safeguarding of society.
Agriculture and DNA
The impact of DNA on agriculture has been a very important one because it has allowed breeders to facilitate the breeding of animals that have a better resistance to diseases. It also allows farmers to produce more nutritious produce, which has particularly important consequences in developing countries where the population subsists on a small range of staple foods that have little variety. This means that micronutrient deficiencies can be addressed in these countries.
DNA Importance Continues
While the discovery of DNA has been a significant one in the twentieth century, it will continue to revolutionise medicine, agriculture, forensics, paternity and many other important fields in society today. DNA research encompasses an evolving area of progress and continued funding and interest in its relevance will likely fuel new discoveries in the future.
You might also like...
Yes hi my name is Henrietta Salazar my mother was cremated without our consent wanted to see if there was any possible way that we could get a DNA on ashes need to find out if these are my mother's ashes
Henry
- 26-Aug-20 @ 4:37 PM
Is there possibility that a genes of a Father and the son/daughter could not be the same? Because of the appearance are indifference?
Bobbi
- 9-Aug-20 @ 1:28 PM
such an insane page clutched up so hard no cap
Henry Braithwaite
- 14-May-20 @ 10:50 AM
I've been looking for the roles and challenges of DNA in modern biology Pls I need help on it
Julia
- 2-Mar-20 @ 9:37 AM
If it was a DNA before the big bang, what came before that?
RevJohn
- 16-Nov-18 @ 12:25 PM
The best way to describe the significance of DNA. Thanks
twinkle twinkle
- 21-Jan-18 @ 1:02 PM
im doing my unit in boloigy and i knda need help
demi
- 2-Oct-17 @ 3:13 PM
Do DNA codes got anything to do with luck?
muinest imara daima
- 8-Jun-17 @ 4:35 AM
I have been studying the process of cell division and DNA replication. In explanations of those processes it is always noted that one of the first steps in cell division is the replication of the DNA molecule. But at that point the DNA molecule is wrapped up tightly in the chromosome so it is not clear how the DNA can replicate. Yet those explanations proceed by stating the DNA replication is first before cell division. I have never come across any explanation which indicated that either the chromosome unwinds to allow DNA replication or perhaps notes another path to the DNA replication. If you could offer an explanation to me or lend some directions in which I can search, that would be much appreciated.
Jerry
- 4-May-17 @ 4:42 PM
The page was do helpful in offering some basics on the basis of heredity factors for genetic make up of cells which are the basic units of life
Lex Tosh
- 27-Mar-17 @ 7:41 AM
The information given is so much of help as it explains roughly on the basis of genetic make up of cells which r the basic unit of life
Lex Tosh
- 27-Mar-17 @ 7:38 AM
If mother and father are disable Can anyaffect on children.
I 've real benefited from this article... i enjoy reading then encountered same in my bachelor degree exam. I scored everything. thanks!
junior
- 31-Oct-16 @ 7:17 PM
how we can estimating genetic diversity from mt DNA?
abdulkareem
- 4-Sep-16 @ 2:28 PM
what is the beast mtdna or rflp for fish genetic diversity in populations?
abdulkareem
- 4-Sep-16 @ 2:25 PM
iv'e always wanted to know why dna was important to forensic science, now i know. I find this page to be very helpful.
CeriahTheFuturePhila
- 15-Jun-16 @ 8:38 PM
Soon our research will change the world as we know it just wait and see.
Prof. Pedigo
- 21-Apr-16 @ 3:36 PM
what help did this make to the world
curious girl
- 9-Apr-16 @ 6:36 AM
WHY DO SINGLE STRAND OF DNA ARE STABILISED BY PROTEINS ? What is there in proteins that make possible?
Sameer kumar singh
- 1-Mar-16 @ 9:30 AM
I thing that this is bad because I search in another place and it says the things better than here
Triborg
- 21-Feb-16 @ 5:18 PM
Even thought DNA is needed it sure is a bother to deal with even if ti is not to taken lightly.
kirito
- 16-Nov-15 @ 7:46 PM
so iv'e really enjoyed your information on the importance if DNA and is really showing me the importance of how we ourselves can stay healthy and our bodies keep our bodies healthy.
belle
- 7-May-15 @ 8:18 PM
Why is it important that we discovered the structure of DNA? How do we use it today?
Cjbob7
- 14-Jan-15 @ 7:45 PM
Can external factors effect DNA on a crime scene??
ajalwayscurious
- 25-Jun-14 @ 7:14 AM
James Watson and Francis Crick made the discovery of dna and made the first model of dna.
djdazzydrew
- 25-Feb-14 @ 3:51 PM
Why was it so important that Rosalind Franklin made the discovery of DNA?And how did it impact us?
Trin-Trin
- 31-Oct-13 @ 8:28 PM
we use DNA to find out who committed the crime all DNA is on file somewhere but you never know when the police can get their hands on it.
blade
- 17-Oct-13 @ 7:16 PM
DNA is one of the nucleic acid tht is ,one of the few entities tht contain genetic
Singh
- 17-Sep-13 @ 7:01 AM
I m I ...........I will not win immediately but Definitely
Sekhon
- 17-Sep-13 @ 6:58 AM
we use dna when we eat semen
fuck you slut
- 3-Jun-13 @ 8:47 PM