Paternity Tests and DNA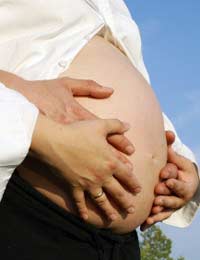 The relationship between a parent and a child is an important one that has lifelong implications. When there is confusion regarding who is the father of a child, it can be a stressful and difficult time for all people involved. In this way, determining the relationship is an important task and must be accurate, reliable and ideally non-invasive. DNA testing – or genetic testing – for paternity has come to be all of those things. This type of testing uses DNA to determine if the expected father is indeed the biological father. It has numerous applications, which range from forensics to law.
What is a Paternity Test?
A paternity test works by examining the DNA of a child so that the identity of the father can be investigated. Since DNA is inherited, the DNA between two family members will be closely related. A paternity test can be carried out for a variety of reasons. If a woman had multiple sexual partners, she may be unsure who is the father of her child. In this case, paternity testing can provide an answer. Also, a father may be denying that a child is his, which means that testing will be required to substantiate his claim. A paternity test might be suggested by the mother of the child, by the father or by the courts in a custody case. With custody cases, paternity testing can allow the courts to confirm who is the father of the child, which then allows for child support payments to be ordered.
Collecting Samples
DNA samples are collected from the mother, the child and the assumed father. Each person will typically need to provide some form of written consent. The consent is important to legally confirm his or her agreement to the test. Many countries have laws protecting children under a specific age. As such, a parent may need to consent on behalf of the child, which will depend on the laws and regulations in that particular country. Still, depending on the circumstances, an older child may still have his or her views taken into account with regards to paternity testing and custody cases.
Paying for a Paternity Test
Most paternity tests are not covered by the government and will need to be self-funded. Even when a court requests a paternity test, costs are still not covered by the government. An exception to this general rule, however, is that if a person is receiving government aid for legal fees, the paternity test will likely still be covered.
Choosing Paternity Testing
Even if you choose to have a paternity test performed privately as opposed to a court-ordered one, it is still best if you speak to your general physician. He or she can recommend a trusted laboratory to perform the testing and you may even be able to have the samples collected through your doctor's office. Costs vary a great deal from one company to another. However, if you have a court-appointed test, the courts will usually have a list of approved testing facilities that you may use when choosing where to have the test performed.
How Accurate is DNA Paternity Testing?
The accuracy of this type of testing is extremely high – approximately ninety-nine percent. Ensuring you choose a reputable laboratory will also help to keep that accuracy high because it means that the laboratory will collect and store samples appropriately.
Prenatal Testing
There are now companies that can offer prenatal DNA testing. Prenatal DNA testing refers to DNA testing that is performed before a baby is born. As with standard DNA paternity testing, you will need a DNA sample from the person you believe to be the father. The expected father must also provide his consent for the test, which means that obtaining the sample without his knowledge is illegal. It is also important to be aware that prenatal DNA paternity testing can slightly increase the risk of a miscarriage or stillbirth. Although the risk is slight, it is something you should discuss with your doctor prior to making the decision to undergo prenatal paternity testing.
DNA testing has evolved dramatically and its use in paternity testing has allowed for successful identification of the relationship between an assumed father and his child. It has also played an important role in many legal cases and it has been integral to confirming a biological relationship where child support payments are an issue.
You might also like...
How do you get dna from deceased person. If the person is buried where can dna be found otherwise???
Sue ann
- 18-Nov-19 @ 8:31 AM
i fell pregnan sept 2013 my due dte was 13june 2014 my bf i hd tht time denies da chld we did a patertinity test and it cme bck he's xcluded hw is it posible
Hi, Im 17 weeks and just completed a prenatal paternity via blood from me & saliva from the father. I havent felt the baby move or anything yet. If for some reason the baby is still born or deceased while test was performed can they tell or will there still be dna from baby in my bloodstream?? I am concerned please help!!!!
Worried2death
- 30-Jan-16 @ 3:36 PM
@halfadime. Try the BBC bitesize website that will have a timeline of DNA etc.
Miss
- 8-Oct-14 @ 11:30 AM
What date was DNA testing first used, legally, to determine the true parentage of a child?
Halfadime
- 7-Oct-14 @ 5:18 PM