Inherited Disorders and DNA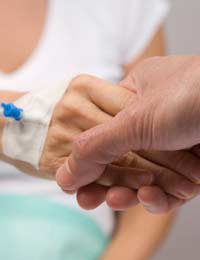 For those who suffer from inherited disorders or are carriers for a disorder, understanding DNA is an important part of learning why they have the disorder, how it can be passed on to their own offspring and how genetic testing can be helpful. Your genes are sections of DNA that are carried on your chromosomes. They are important in determining your unique characteristics and traits.
How are Diseases Inherited?
If you think about how children inherit different traits from their parents - such as hair or eye colour - you can apply that sort of thinking to inherited disease. When a child inherits a mutated copy of a gene, he or she will be a carrier of the disease. Although they probably won't be ill, they do have a fifty-fifty chance of giving the mutation to one of their offspring. If you have ever wondered why a disease seems to disappear in one generation yet reappears in another generation, this is due to a person being a carrier of a disorder. When two mutated copies are inherited, the child may then show signs of the disease. To further understand how this happens, you need to look at inheritance itself. A child will inherit two copies of each gene. One copy is from the mother while the other copy is from the father. For most genetic diseases, they are considered 'recessive.' This means that if only one copy of the gene is defective, the other copy is sufficient to keep the individual in good health.
Two Copies of a Mutated Gene
Because two copies of a gene are inherited - one from the mother and one from the father, inheritance of a mutation does not automatically equate to having the disorder. In some instances, it only takes the inheritance of one mutated gene while in others, two copies must be inherited for the person to suffer from the disorder. One disease that requires two mutated copies is hemochromatosis, which is a disorder of iron storage. If someone carries one copy of the mutation, they are a carrier for that trait and will not develop the disease but they can still pass it on to their child.
One Copy of a Mutated Gene
In some cases, only one parent passes on a copy of a mutated gene and this is enough for the expression of that gene. This kind of inheritance is called autosomal dominant and one example is familial adenomatous polyposis, which puts a sufferer at a higher risk of developing colon cancer due to the presence of a large number of polyps.
Mitochondria and Inherited Disease
If you picture a cell, it has many mitochondria, which serve to produce energy to meet the cell's needs. Mitochondria have their own DNA that is not the same as the DNA found in the rest of the cell. With so many mitochondria in a cell, there are thus many copies of the mitochondrial DNA. When many copies are a cell's mitochondrial DNA are defective, disease can result. Mitochondria are inherited from a mother's egg and are therefore carried on from a mother to her child. One disease that falls under this type of inheritance is called maternally inherited diabetes and deafness, which involves non-insulin dependent diabetes.
Genetic Testing
Genetic testing is a very personal decision that should be discussed with your doctor. It can help you and your partner determine if either or both of you are carriers for certain diseases. Genetic counselling stems from genetic testing and has arisen due to the psychological aspects of genetic testing, which can leave potential parents struggling to make sense of the results. Genetic counselling can help potential parents decide whether they wish to have children.
Understanding inherited disorders can seem difficult and may even feel frightening if you have learned you are a carrier for an inherited disease. The best option is to speak to your doctor about the probabilities and consequences before making any decisions.
You might also like...