DNA Test after Death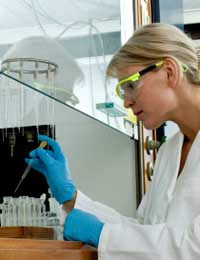 Q.My sister was involved in a car crash, and she lost her unborn child. The autopsy report revealed she was 18 weeks and 1 day pregnant. A wrongful death suit has been filed for the loss of her child, however, there is a question of who the father is. My sister chose to have her stillbirth cremated, and I was wondering if there was a way DNA testing could be done since the baby was cremated. If so what are the options?
(Mrs JB, 10 September 2008)

A.
I want to offer sincere condolences to your sister and your family. I wish I could offer you a more hopeful answer but unfortunately, the high heat of the cremation process destroys DNA. This means it is extremely unlikely that you would be able to make an identification of the father through DNA testing of the ashes. When a cremation is properly performed, the heat is extreme to the extent that no living material exposed to the heat can survive it.
Interestingly enough, one part of the body that is weakened but still intact to some degree following cremation is a person's teeth. Virtually all properly performed cremations will ultimately pulverize the teeth though, so there is little chance of intact DNA. However, on the rare chance there was a tooth, it could be possible to use this for paternity identification. Given the age of the foetus at death, there would have been teeth already forming, despite the fact they had not yet emerged.
Generally, DNA testing is quite reliable on a deceased person prior to cremation but it is once the DNA is exposed to the heat of cremation, it does not survive intact. I am not sure if this is any consolation, but I can say that your sister is not alone in her quest to determine DNA from ashes. In fact, the question is a common one heard at funeral agencies but at this point in time, the answer is not favourable to testing.
Still, while there is not yet any reliable, accurate form of testing for DNA in cremated remains, it is not to say that this kind of test won't become available in the future. I can appreciate that your sister may need to put closure on the paternity aspect of her dead child, but the only advice I can provide is to try to find a way to emotionally move beyond the issue, through family and friendship support or through counselling. Your sister can still stay aware of the newest developments in forensic science and DNA testing – perhaps one day testing will be able to include ashes.
You might also like...
HELLO.I WANT TO KNOW IF I COULD THE DNA FROM MY BROTHER AND HE HAS BEEN DEAD FOR 30 YEARS.HE WAS NOT CREMATED AND IF IS POSIBLE FROM WHAT PART OF THE BODY WOULD THE BEST TO OBTAIN IT.I PLAN TO HAVE HIM EXHUME VERY SOON.PLEASE ADVISE ME.THANK YOU.IS FOR PATERNITY REASON.
Cuqui
- 20-Sep-20 @ 12:12 AM
I've recently become curious that a deceased relation, previously assumed to be born to british parents in the 1910's, may be of Australian descent. Would it be possible to carry out DNA testing from any of her belongings, e.g hair remains, combs, etc.. I'm assuming that the cremated remains do not contain any useful teeth fragments.
samac
- 29-Aug-20 @ 6:17 PM
My family has possible history of a Native American marriage we are trying to trace. The woman in question died in 1946 and is buried in a cemetery in New York. Would it be possible to get a sample from her grave for DNA testing
annie
- 5-Aug-20 @ 9:11 PM
Hi My Mother has been informed her twin brother has passed away, can we have a DNA test done to confirm the deceased person is actually her brother and if so how do we go about obtaining permission to have a DNA test carried out? We are in Scotland and my uncles remains are in England.
Nicola
- 29-Jun-20 @ 7:39 PM
My grandpa passed away years ago. I was needing a way to take a DNA test with him to prove I was related to him. I don't know if it's even possible now to take that DNA sample
Rosie
- 27-Jun-20 @ 7:07 PM
My daughter passed away more than 12 years ago and her father finally came around but says he's still skeptical is there any way we can find out if he's the father? Maybe hospital records or something. She wasn't cremated but buried.
Shorty
- 7-May-20 @ 11:12 PM
I lost my Baby last year may and the father is saying that the child is not his i have a 5year old child by him what can l doo too proof to him that the Baby was his
Vennah
- 12-Feb-20 @ 5:16 AM
My wife of 30 years was wrongfully convicted of trumped up charges from the prosecution no evidence at all, she had seizures and kept telling me that they was changing medication on her frequently and making her sick I'm afraid she was being used as a lab rat on testing well long story short she has died would not let me see her just ashes my question can I have test done to see if it is really her or not I need to know do they still have her locked up doing research or not this is playing with me I need closer or her what is my best route for this thanks
Seahawk
- 2-Feb-20 @ 12:56 PM
Why is a building called a building if it's already built?
Building
- 14-Jan-20 @ 9:51 PM
One sunny day joe was in a great mood. Bob saw him from the other side of the room. But little did he know he was a horny bastard. Joe felt something go inside him. Bob was behind him. He started moving his hips harder and faster. You could see the excitement on joe's face."what are you doing bob" said joe. Bob just moved faster in silence. Joe started to scream and yell, but it wasn't just because he was in pain but because he loved it. They did this for several minutes. And all of a sudden bob stopped, he was tired and breathing hard. Joe felt something warm and slimy in him. Bob said " that it". He pulled his pants back up and left. Joe's legs were shaking but he pulled his pants up to he tried to walk but his legs were sore. Days later bob committed suicide and joe was devastated. And here I am seeing if I could clone him with his dna. I just want that fat cock in me again.
Joe
- 13-Jan-20 @ 10:30 PM
my brother was killed by a doctor prescribing ripiradone tabletts witch caused him to get colon cancer and now he is dead all because a doctor did not listen he should be struck off from s smith in hull
super steve
- 4-Jan-20 @ 9:33 PM
I would like to know if it is possible to do DNA testing, of a 1916 sample of blood, which was smeared on the front and back covers and several pages of my grandfathers bible, when he was shot in WW1.I am particularly interested in a full sequence, YDNA test of SPRs and SNPs.If so, how would I go about it and whom would I send it too.Thanks in advance.
Jeff
- 4-Jan-20 @ 4:19 PM
Hi my sonpassed away and i have now found his dad his dad is a little bit sceptical if he is even his i have his teeth that was pulled out from the hospital cani get a DNA from these.
Cazzie
- 21-Dec-19 @ 9:38 AM
My stepfather has had my mothers ashes since she died in 2016. He moved away ..remarried etc and is now finally sending whats left of my mum back to me .how do i definately know the remaining ashes are actually her ? Is there a test that can be done ?
My mother passed away naturally in 2016 and was cremated. I now have to prove her maternal status to me for birth certificate reasons. We still have items of her clothing. Is it possible to obtain DNA from those and obtain a link to mine?
Barrie King
- 5-Nov-19 @ 11:00 AM
I want to do this because of paper with proof of being a sister or daughter was reason why I was not able to attend this funeral please help.
Sally
- 15-Oct-19 @ 1:02 PM
How good are DNA results when DNA is taken from a person close to death.Such as saliva,hair and toenails?
Tammy
- 13-Oct-19 @ 5:32 PM
Hi my sister's grandson past away just recently he had a toxicology test done we recently found out his girl friend of 3mths havin his babybut how can we be sure it is his baby if he has been crematedcould we ask hospital to do a dna on blood samples they took from him
Beth
- 4-Oct-19 @ 5:36 PM
Wife passed away while we were on vacation in the sierras. Is it possible that there may be some item of hers that would have dna on it for a test? I am thinking her pierced earring she was wearing may have ena on it or some other clothing item
Wag
- 28-Sep-19 @ 5:46 AM
I need some answer...my son died 24 years ago, August 6,1995, he was born July 29,1995, I just have doubts in my mind, as Fabella Hospital in Santa Cruz Manila, they were known of selling babies, exchanging or swapping kids in this Hospital, I got questions in my mind if that was truly my son they said have died and we buried them, is it possible for us to get sample of him and have him tested?, if how much it will cost us? Very sincerely, Mrs. Mayven Savory
Mhay
- 30-Jul-19 @ 10:00 PM
I would like to know if an old baseball cap would have my father's dna.My dad passed away in 2010.
mich
- 30-Jul-19 @ 6:26 PM
My grandmother passed and I want to do a DNA-genealogical test. I did the 23 and me test and it was revealed I am 47percent Native American. I know this comes from my grand mother's bloodline but want some certainties. They plan to cremate so I want to know if we do a blood extraction, hair or mouth swab, will that be enough to do testing to establish our bloodline before our option is gone forever.
Gurl
- 26-Jul-19 @ 4:08 AM
hi , my son passed away ,17 years ago in2001 and he had a baby on the way ,she was born in june 2002 , she is 17 years old now ,but we had never had a dna,done so we are not100% that if she is my sons daughter,and to makeit worst my son had only known her mother for3 months,and she was three months pregneat,when he passed,and i always wanted to know for sure whether she was his child, how can we do a dnain this situation
fredab
- 27-Jun-19 @ 11:10 AM
My sister was adopted by my Aunty at a very young age. We met for the first time when I was 35 years old and she was 45 years. We were in touch till 2014 when my sister had passed away in India leaving all her property to me in her last and final Will. I have been in Australia since 1968. I am the only living member of the family. How can I prove that we are brother and sister. My sister was buried in India. All I have is some documents, a diary etc. Items that she had handled. Would this be enough to have a DNA test to establish our relationship. Richie
Richie
- 25-Jun-19 @ 1:52 PM
Can I text my 4 month old baby ashes, there is pieces of her bone,
Vee
- 12-Jun-19 @ 6:28 AM
My daughter was born stillborn and was buried. I don't want to disturb her resting place. Is there anything the hospital would have saved to run a Paternal DNA test?
Banda
- 29-May-19 @ 8:29 PM
I had a dna sibling test done and there seem to be a problem with the test that the lab have not told me about yet and I know that my four kids belong to the decease father we was together 19 years and he was the only one I was with. So is the siblings test different then the parents dna testing
Sherel
- 29-May-19 @ 5:50 AM
After 47 years, I have requested the baby disinterred. I know something else happened, because just before the gas mask was forcefully put on by two nurses I heard a baby cry, just before I was out. No doctor, nurse told me the baby died, my parents did. Next day Saturday 09, 1972 a woman with an apron came in and told me to sign these papers; allot about 10 pages. She held her hand on the papers and lifted each page to be signed. I never knew why I signed nor did I get any copies when I was discharged. My parent told me that we will never speak of this again, what is done is done. This was after the funeral in which I was not allowed to go.I have finished my statement to the Funeral home so the request disinterment permit request. Everything else is the responsibility to find out and coordinate with the officials by me. I have research Forensic people in Albuquerque, New Mexico but do not know where to start. State of New Mexico where this is going on.
Hello, my father died as a result of a fatal accident. He was struck and killed by several vehicles. I have his belongings. Some of which had his blood on the metal button and fabric. Would it be possible to swab those areas for DNA testing or is it too late to do that? This happened in February of 2019. The garment has been kept in a plastic evidence bag.
Lucy
- 18-May-19 @ 2:16 AM
We have ashes and want to check they definitely are my brothers can they be checked against sibling or parent to prove its a relation. Also have some hair can that be checked
Kas
- 13-May-19 @ 9:54 PM