DNA Test after Death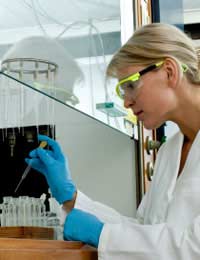 Q.My sister was involved in a car crash, and she lost her unborn child. The autopsy report revealed she was 18 weeks and 1 day pregnant. A wrongful death suit has been filed for the loss of her child, however, there is a question of who the father is. My sister chose to have her stillbirth cremated, and I was wondering if there was a way DNA testing could be done since the baby was cremated. If so what are the options?
(Mrs JB, 10 September 2008)

A.
I want to offer sincere condolences to your sister and your family. I wish I could offer you a more hopeful answer but unfortunately, the high heat of the cremation process destroys DNA. This means it is extremely unlikely that you would be able to make an identification of the father through DNA testing of the ashes. When a cremation is properly performed, the heat is extreme to the extent that no living material exposed to the heat can survive it.
Interestingly enough, one part of the body that is weakened but still intact to some degree following cremation is a person's teeth. Virtually all properly performed cremations will ultimately pulverize the teeth though, so there is little chance of intact DNA. However, on the rare chance there was a tooth, it could be possible to use this for paternity identification. Given the age of the foetus at death, there would have been teeth already forming, despite the fact they had not yet emerged.
Generally, DNA testing is quite reliable on a deceased person prior to cremation but it is once the DNA is exposed to the heat of cremation, it does not survive intact. I am not sure if this is any consolation, but I can say that your sister is not alone in her quest to determine DNA from ashes. In fact, the question is a common one heard at funeral agencies but at this point in time, the answer is not favourable to testing.
Still, while there is not yet any reliable, accurate form of testing for DNA in cremated remains, it is not to say that this kind of test won't become available in the future. I can appreciate that your sister may need to put closure on the paternity aspect of her dead child, but the only advice I can provide is to try to find a way to emotionally move beyond the issue, through family and friendship support or through counselling. Your sister can still stay aware of the newest developments in forensic science and DNA testing – perhaps one day testing will be able to include ashes.
You might also like...
Hello everyone. I really need help my father pasted away last October I need documents proving I'm his daughter.my dad's name was not on the birth certificate.but I did move in with him when I was 12 to 15 I guess I could get school records? Doctors letters? Could I get DNA testing if he had cremation? ...I don't know the first step on what to do...please help
Carolb
- 15-Feb-19 @ 6:36 PM
Can I get a dna test done on a recently deceased family member? What would this involve and which companies would be able to do it? The family member was the last of his generation form both sets of his grandparents (around a hundred grandchildren) so his dna would be a valuable family history research resource revealing hidden dna matches to myself and my mother (both tested).
treeleafer
- 12-Feb-19 @ 1:52 PM
A woman adopted at birth is trying to find her bio parents. The path seems to be leading to my deceased partner.
Stellargramma
- 26-Jan-19 @ 2:29 PM
hey guys let me share this with you, It was so embarrassing and sad because basically, i suspected that my partner is cheating on me but i want to be sure before taking any action. Until I decided to take a chance to know, knowing is better than self doubts and it was exactly what happened when I employed the services of this particular group I came across from a colleague at work to help check her phone. Now I know when she's telling the truth and how to curtail her, I think it is not a drastic step if it'll make you feel better. My life got better, I stopped using my precious time to bother about his indiscretions and channeled my energy positively. for any private investigation just contact almcybergenius on gmal or whatspp him on +1 6 2 8 2 0 4 3 6 7 5 for more professional services. gt
sarahperc
- 18-Jan-19 @ 5:06 PM
My son father died in 2009 we were never married and I want prove he was his dad?
Rew
- 18-Jan-19 @ 6:01 AM
I have a brother that is cremated.. but I do have his baby teeth... can it be tested as my father is deceased and I need to at least try?
Doc
- 14-Jan-19 @ 1:46 AM
My son AIDEN passed away 2 days after birth cause of death: Trisomy 22 . His father still denies him and doesn't acknowledge the fact of his very first child passing away. It may seem weird to some but I saved cotton swabs on my sons blood as it poured out of his nose and mouth during his death. I have it placed inside a plastic zip lock bag inside of his memory box . I also cut some strands of his hair. It's been 2 years now and I've been searching on ways I can get a DNA test done. I know for a fact who his father is , but he made me look stupid which left me humiliated and he never once apologized. I just need closure. This is the only part that I can't move on from without my proof in BLACK & WHITE!! Any suggestions?!
Dijah
- 22-Dec-18 @ 9:13 AM
I think someone has done my sis wrong.But she was cremated and she visits saying i was wrong i should have gone for an autopsy.Is there any way her ashes can tell a tale?
rosygirl4
- 16-Dec-18 @ 11:44 PM
I have a 4 yr old daughter I was raped while in a relationship I never told him I was pregnant an then he died how would I get dna from a dead man if I know almost nothing about his family
Shelly
- 14-Dec-18 @ 1:41 AM
My father was killed on July 5, 2018. I am is only blood child however he never married my mother. He accepted me as his child. His name was never placed on my birth certificate. He had a biopsy done at death. Can I get a dna done from his ortopsy? I am in Alabama.
Ann
- 7-Dec-18 @ 10:02 PM
My birth mother and her sister are identical twins my uncle died and I believed he was my father can I do DNA through the siblings of his
Loopy
- 6-Dec-18 @ 6:18 PM
My son died on this year and i think that the ashes they give me is not son how can i do to find out that the ashes they give me is my son ?
Granny
- 27-Nov-18 @ 3:05 AM
My father died in 1997 and I was secretly conceived and raised by my father's bodyguard as his own child till my foster father died and revealed my identity on his death bed. My mother is alive and we reunited in the year 2011. Because my father was a head of state in my country, there is an air of mystery about his family life. My mother seems to have benefitted from my birth and inherited what was to be my inheritance. I made efforts to reason with her and made it clear that I want to have my name and birthright restored. On seeing my intentions, she cut me off from any contact with her. Now, I want to apply for change of name. My father's DNA samples were stored by the government and my half brother secretly had a Paternity test done which was 99.9% but it's legitimacy was questioned because it was done in private. Should I have a public paternity test with my father's stored DNA? Will it yield results? Will my mother have a legal right to block such a test? Please help.
Curious Dan
- 31-Oct-18 @ 9:19 PM
My father died 6 years ago I have a curl of his hair would I be able to use this for a DNA test?
We lived in Plaquemines Parish in Louisiana where Hurricane Katrina made her first land fall. Weeks after the hurricane hit we were able to enter our parish. After finding we no longer had a home, we went to the cemetery to check our parents tomb. That's when we saw that the marble door had been washed away. That day we saw many coffins that were washed out of tombs that the marble doors had washed away or broken off. We contacted the funeral home that our father's funeral was held to see if they could tell us if one the the coffins were our dads. They told us that we would have to open each coffin and look at the remains. We decide that no one in our family could do that. Here it is 13 years later and we still don't know if our dads coffin is one of the 7 or 8 still not buried. We were wondering if it was possible to have all of the coffins opened and dna test done to see of our dads remains are in one of the coffins? We (I) have a feeling in my gut that his coffin was washed out of the tomb when the door was washed away. And I am hoping that I can get some closer in knowing that I have done everything possible to find out. I just can't have any of our family members be the one to open these coffins in case he is in one of them. So I guess I need to find out if these is even possible to get done and what would it cost to make this happen. Thanks for any help or advice you are able to give me.
Dee
- 24-Oct-18 @ 5:40 AM
My grandfather died in 1959 and I was wondering if you could do dna from an old pipe of his.
Rhonda
- 17-Oct-18 @ 12:31 PM
Can you take dna from an old pipe.My grandfather died in 1959 and we only have an old pipe.
Rhonda
- 17-Oct-18 @ 12:29 PM
I am trying to get citizenship for the UK as my father was born there.However my parents were not married at the time of my birth and my mother was separated from her first husband.My father was cremated and have his ashes.Ibelieve you cannot get DNA from those.I do however have his comb and glasses can they be used? TIA
Shelley1964
- 15-Oct-18 @ 5:24 AM
I am 73 years old.My birth father died in 1976 and I know where he is buried.I have been very active in family research, but have no details of his family and have no siblingswith him as a father.Can I have his body exhumed to get some dna for testing to determine my paternal dna?
Nadeoui Eden
- 13-Oct-18 @ 10:42 PM
I am 72 years old.My birth father never gave us accurate family information.I know where he is buried.Would it be legal or possible for me to have him exhumed to get some dna for dna testing to try and find my paternal ancestors?
Nadeoui Eden
- 13-Oct-18 @ 10:39 PM
My son died on july and i think that the ashes they give me not belong to my son how can i do to find out that the ashes they give me belongs to my son ?
Enoch Correa
- 30-Sep-18 @ 9:48 PM
My sister reasonly found out that my father was not her farther we did a paternity test which confirmed this.We suspect who the real farther is but he passed away this morning 26/09/2018 how can we get a DNA test done if possible before the funeral?What is the legal procedures.Also we do not want the family to know as it will be devastating.
Suzette Brits
- 26-Sep-18 @ 8:42 AM
My mother just told me she has reason to believe that the man she knew as her father was not her biological father. She wants to know if there is any way to find out even though he died a long time ago
Saige
- 24-Aug-18 @ 9:12 PM
Lizzy - Your Question:
My father passed away a few months ago and there are 3 children claiming to be his I knew nothing of. He is not named on their birth certificates. Can they force me to do a DNA test in order to make a claim on his estate?
---
Our Response:
They would need to contest the Will via the courts. The courts would order any necessary tests as part of the case.
ExploreDNA
- 24-Aug-18 @ 2:16 PM
My father passed away a few months ago and there are 3 children claiming to be his I knew nothing of.He is not named on their birth certificates.Can they force me to do a DNA testin order to make a claim on his estate?
Lizzy
- 23-Aug-18 @ 2:24 PM
Hi , I was alway told about my dad and that he had another daughter and son younger than me , I have recently been in touch with my so called brother we did a DNA test and it came back zero we have different mothers same farther, it then said something like even if you were full brother And sister you can still could come back zero, my half brother as a tooth of our deceased farther would that work better for me to have that done ,
Carol
- 12-Aug-18 @ 5:24 PM
My father died in 1993 and was buried never knowing who his father was. We have endlessly tried to find out but can't. No way. Is there a chance we can get a comb used by him tested and would that give us any results.
Vivi
- 5-Aug-18 @ 5:36 AM
Hi, My uncle died over 20 years ago. I found out 15 years ago that my best friends brother in law was raising a child, that was supposedly my deceased uncles son. I found out this boy could be my uncles son. The story is no1 knew my uncle got this woman pregnant except the day of my uncle's funeral. For so many years we had and still have no answers. My question is, this boy who is supposedly my cousin and I would like to truly find out. I was told if I have another living uncle, I could take his DNA and this kids dna and find out the truth. Can we do this with a home kit, or do we have to go to a specific place.
Sin
- 15-Jul-18 @ 9:56 PM
After his death in 1965, my friend discovered that the father who loved and raised her had been living under an alias. No trace of him is to be found in any records prior to 1930, but he was born at some point during the 1890s. Through DNA matching, she has found that she has three strongly matching 2nd-4th cousins, each descended from three siblings. I've traced their family tree backwards, laterally and forwards in time, to try to find any 'missing' men of the right age to be her father. The only candidate is another of the siblings who weny missing, believed killed during WW1. My friend has just foundher father's old pipe, and wondered whether it is possible to have DNA extracted and tested to see if any of the DNA matching can be made more positive. Can this be done, and, if so, by whom?
Squibbs
- 10-Jul-18 @ 4:09 PM
I need to know if the ashes I have are my husband, because the ashes I that was given to me smell something awful, so I would like to talk to someone about this matter... my phone number is (720-410-3093) if someone can call me I can give you more information... thank you very much.
duck
- 8-Jul-18 @ 11:28 AM